Among the various possibilities offered by this network, Ethereum allows you to register web domains in non-fungible token (NFT) format so that they are minted in the block chain. Thus, anyone can get a domain of the type "example.eth" that also works as a link to their Ethereum address.
According to statistics provided by ENS Dashboardmanaged and shared by nick.eth, developer of Ethereum Name Service, provider of these domains, In the last week of April, 72,300 new domains were registeredwhich represents a growth of 187% compared to the previous week.
Additionally, active ENS domains jumped from 735,000 on April 22, 2022 to 807,000 a week later on April 28. In the following graph, you can see (in blue) how the number of registrations per day has a peak of 21,000 new users in the last day.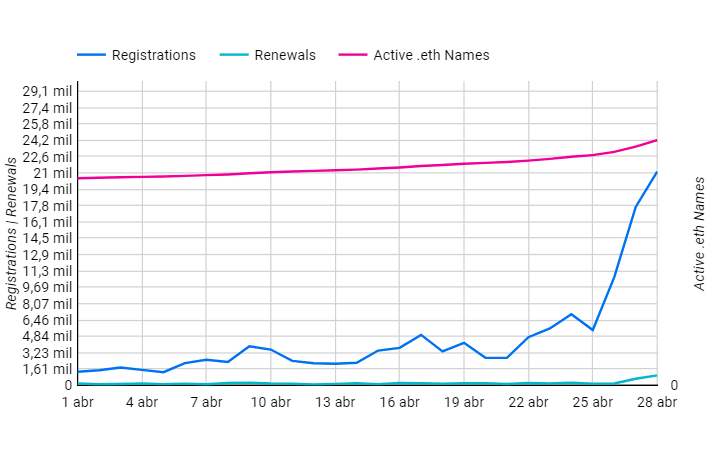 Also in the last week, in the Ethereum marketplace Open Sea domains were resold for more than 2438 ether (ETH), which is equivalent to approximately USD 7 million. This represents an increase of 2,827% compared to the previous week.
The engine of this upward movement seems to be the Bored Ape Yacht Club collectible NFTs. These tokens are numbered, so each of the 10,000 that make up the collection has a four-digit number that identifies it. That figure followed by the .eth domain is what many are looking for in the market of the ENS currently.
Likewise, domains with three-digit numbers also show an increasing market volume. As the Twitter account reflects ENS Saleswhose bot developed by Kodex App reports on this type of transaction carried out in OpenSea, purchases of these domains have been repeated in recent days.
Advertising

For example, the 866.eth domain was sold for 8.66 ETH (approximately $25,000) on April 28. This trend that the domain number itself is the one that indicates the value in ETH is something that is repeated, as for example in the cases 822.eth (sold at 8.22 ETH) and 725.eth (sold for 7.25 ETH). This does not occur, of course, with the lower numbers.
What is the reason for the high demand for domains in Ethereum?
In part, this "furor" could be due to speculation about the future value of these domains. In other words, in addition to collectors, there are those who see an opportunity to invest in domains with increasing demand then resell them at a higher price.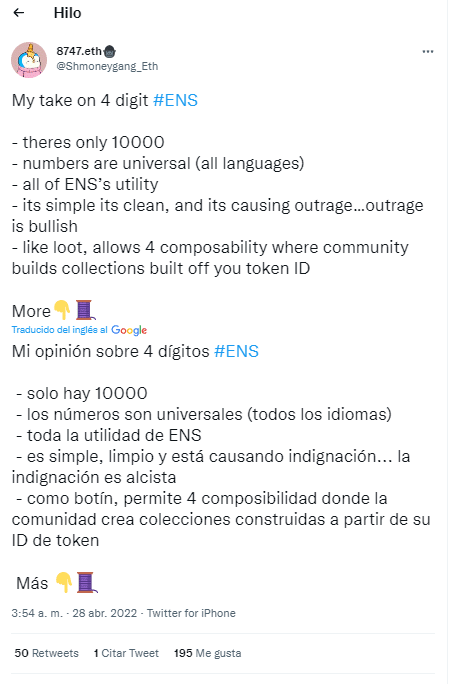 A peculiarity of these domains is that they are scarce. Being combinations of 3 or 4 digit numbers, the possibilities are finite. And even more so if the number is intended to match the identify of an NFT, which reduces the possibilities to just one.
On the other hand, another of their features that could give them resale value is that they can be applied not only to BAYC, but also to other NFT collections. In addition, the numbers represent a language that can be understood around the world, which expands the market even more.
All of this coincides with a rare moment in the NFT Bored Ape Yatch Club collection.. Despite the fact that his Instagram account was hacked this week, BAYC generated many expectations for the launch of its metaverse and for the virtual lands that are going to be auctioned on April 30.

This effervescence already had its first repercussions in the market. apecoin, the ERC-20 token of the BAYC ecosystem, had an increase of 9.25% in its value in the last 24 hours at the time of writing this article. Currently its price is USD 22.61, but it was listed at USD 26.81 on the afternoon of Thursday, April 28.
What is Ethereum Name Service?
Ethereum Name Service is a decentralized autonomous organization (DAO) that provides and trades domains on the Ethereum network. To do this, it registers them as non-fungible tokens, thereby attributing ownership to the holder of the NFT. According to your Official sitemore than 825,000 domains have already been registered to more than 349,000 owners.
As explained in CriptoNoticias, these domains are presented as an alternative for easier use of Ethereum addresses when making transactions with them, since it "translates" them into readable terms instead of a set of alphanumeric characters.
On social networks like Twitter, you can see many users using these domains as profile names. An example of this is the co-creator of Ethereum, Vitalik Buterin, whose username is @vitalik.eth.
In short, these domains and the subdomains that are derived from them (such as example1.example.eth) provide a solution for Ethereum users when carrying out various transactions on this network. In addition, as it happened this week, they also bring new possibilities to the NFT market, which is still developing its potential.