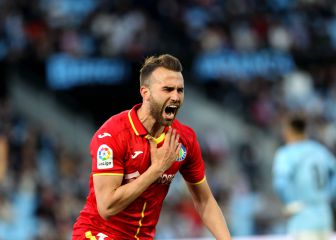 Borja Mayoral's goals in Vigo, as well as the last one he scored at the Coliseum against Mallorca, have given Getafe six points that could be definitive to reach the goal of permanence. Against Celta, Óscar Rodríguez assisted in the first and started the play in the second. Gonzalo Villar was the passer against Mallorca. The three arrived in the winter market, all of them on loan and they are being decisive. Borja Mayoral, with six goals leads them, Óscar has played a lot and on Wednesday with great success. Gonzalo has participated less, but the azulona grandstand adore him for his talent.
Florentino Luis also played very well in Balaidos with great defensive and tactical work. The Portuguese has been on loan from Benfica since the start of the season. Y Among the players who have stood out the most since the beginning of the course is Jorge Cuenca, left-handed center-back loaned by Villarreal who follows him closely and will recover him in the summer after his great campaign at the Coliseum. Sandro, on loan from Huesca, has played twenty-five games, contributed three goals and made Enes Ünal's job easier. Okay, who also arrived in winter has played less, Gastón Álvarez nothing and Vitolo barely two hundred minutes since August. They are the only three on loan that have not been important in achieving a permanence that is getting closer every day.
Getafe could definitively certify permanence in the next match at the Coliseum that will face Betis. For that shock you will have a very sensitive drop. Jorge Cuenca saw the fifth yellow of the cycle in Vigo and will be low. With Cabaco sidelined for disciplinary reasons, his replacement is unknown, although Quique has alternatives and eleven days to decide.
[