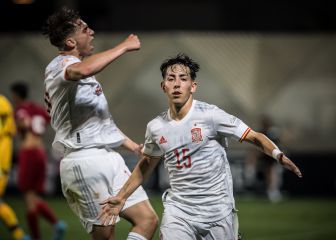 The U-17 could not start the European on a better footing. The pupils of Julen Guerrero they beat Turkey in their first match and finish the day as leaders of group C and with qualification for the quarterfinals well on the way after the draw between Serbia and Belgium. A win against the Belgians on Friday will put La Rojita through to the next round.
It cost Spain to enter the match. Perhaps due to the nerves of the debut – logical, age -, the two teams made too many inaccuracies and the game was castled in the middle excessively during the first 30 minutes. Even so, La Rojita had more control and the first chances came from the hand of Iker Bravoa striker who has already made his Bundesliga debut with Leverkusen, and Dani Rodriguez, Barça winger, who was a dagger from the left. After half an hour, the Spanish midfielders, especially Daniel Perez, began to fuel and create danger between the lines. It was precisely after a break in lines by the Betis player that La Rojita's first goal came. Dani found Iker Bravo at the edge of the area and he, after a touch, gave the ball to Dani Rodríguez to face the goal and scored the first goal of the National Team in the tournament.
Spainalready with everything in favor, came out more liberated in the second part. Domino from start to finish Iker Bravo left the game seen for sentence with a great goal from Julen's laboratory. Dani Pérez took a corner from the right towards the edge of the area, where Bravo, unmarked, was waiting with a loaded rifle to finish off with a volley. His right hand hit the goal against the post. What peace of mind it should give Julen to know that his striker has been plugged in from day one. Now let him pass the next one.
[