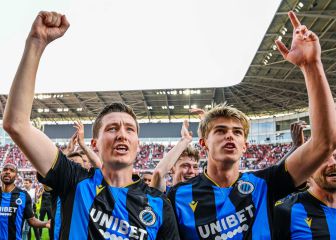 Bruges have been proclaimed champions of the Belgian league this Sunday for the third consecutive season after tracing back at home to Antwerp. This achievement is achieved with one day to go in a spectacular last month in which he has taken 13 out of 15 possible points in the group for the championship. Thus, she managed to turn a classification that had the Royale Union St. Gilloise on track after the regular season.
To achieve this title, Bruges was reinforced in the summer with great signings such as: Jack Hendry or Nsoki, the starting central defenders along with the veteran Mechele. In addition, in January the Danish Skov Olsen arrived, who has been important from day one.
This club has always had to deal with the brain drain. This past summer the young Odilon Kossounou went to Leverkusen for 23 million euros or Emmanuel Dennis to Watford for 4 million euros, but the hardest loss was that of Philippe Clement. The coach was the one who, since 2019, made them win all the leagues he played. In early January they had to turn to Alfred Schreuder, who did not disappoint. Of twenty games he has only lost two.
It is already known that Alfred Schreuder leaves the club after this season to go to Ajax, so this summer they will have to rebuild their project again. Waiting is also whether they will have to let go of two of their young talents: Charles de Ketelaere and Noa Lang. The first, 21 years old, is a star in the country, he has been the team's top scorer (18 goals) and it has already been rumored that he could make the leap to the Premier League. The second, 22 years old, exploded last season after arriving from Ajax and, although this season he has lowered his figures (9 goals and 14 assists), he has managed to debut in the senior team.
[