BTCPay Server, an open source payment processor, has updated its app to incorporate features focused on using the Bitcoin Lightning Network. With these new features, it aims to be more prepared for the potential mass adoption of bitcoin (BTC) payment channels in a second layer.
BTCPay version 1.6.0, released on Friday, has improvements on the board so that merchants who use the application in their business can see new data about their operations. Many of these changes were requested by the user community. The function that allows you to easily exchange the BTC denomination with the currency that has been selected for the business stands out.
The payment application also now has a dedicated dashboard to view the amount of funds held by Lightning Network channels managed by a user. This includes channels anchored to own nodes, remote channels, and even shutdown channels. In the previous version you could only see data about the Bitcoin network. RTL, ThunderHub and Lightning Terminal, which are services of this second layer network, can now also be accessed from the dashboard.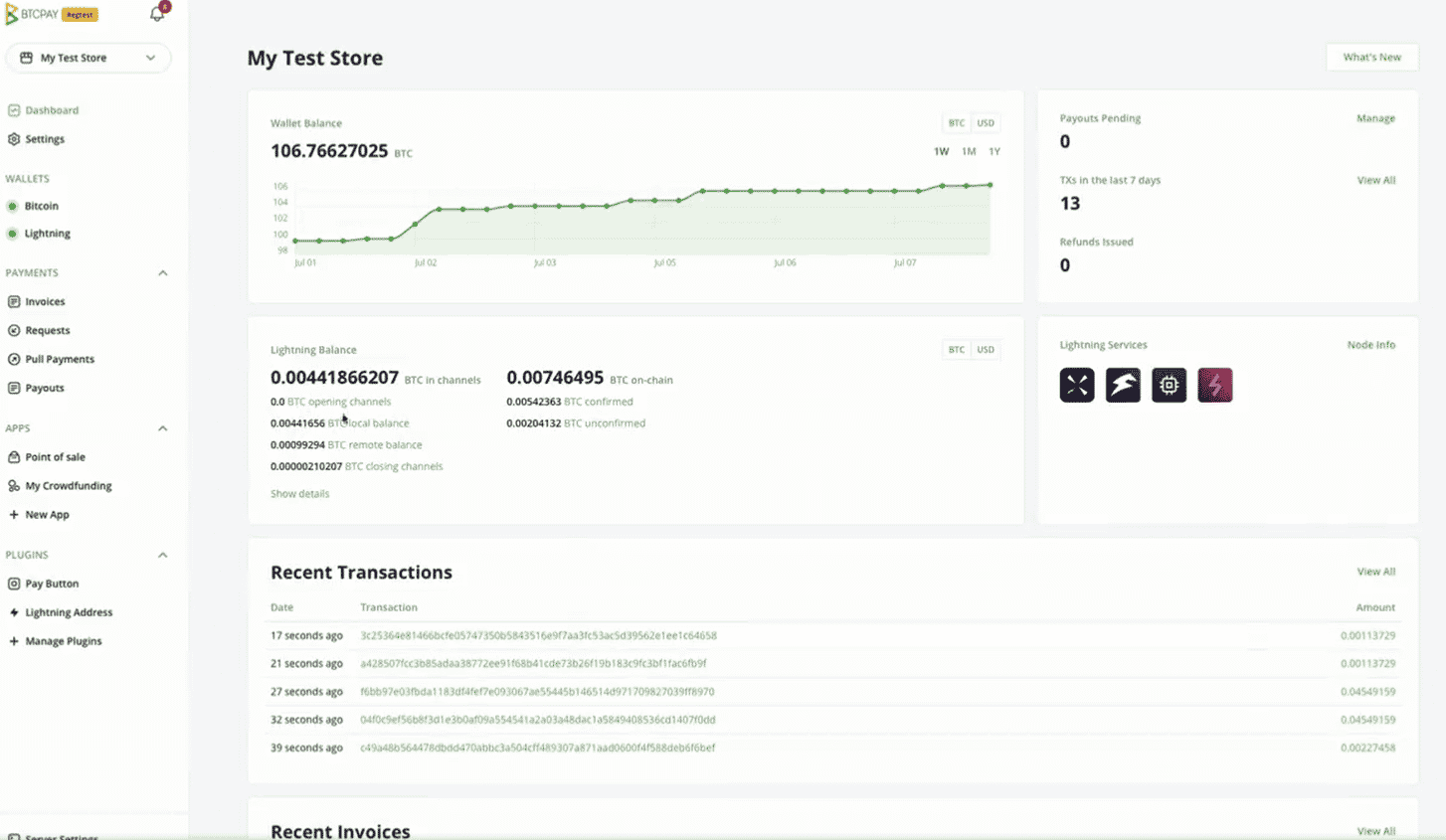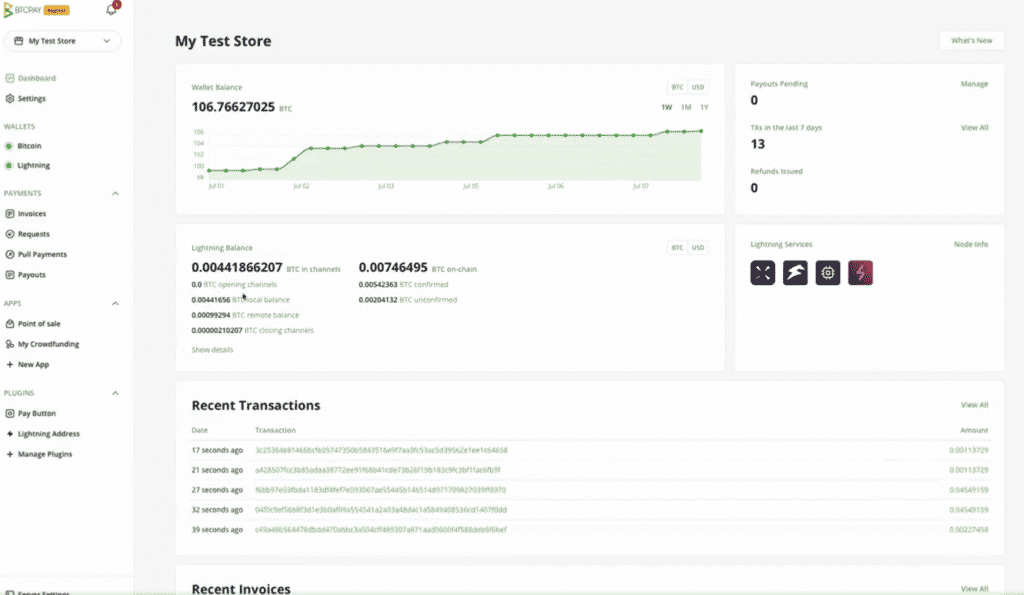 The BTCPay point of sale app also had improvements. For example, now you can see in the dashboard information about the products for sale and the quantities. It also allows you to obtain a receipt each time an invoice is settled (invoice).
The invoices have a button that allows the customer to see information about their payment and a QR code can be enabled in case the receipt needs to be printed. For example, for an event ticket. A download link or key can also be specified on receipts if the product the merchant is selling requires it. For example, a software package or a license.


Another cool feature of this update allows withdrawals and refunds by implementing LNURL. This Lightning feature is designed to create static, reusable QR codes or URLs that make Lightning payments easy, since you don't need to create an invoice for each payment.
Advertising

To use this feature, withdrawals or refunds can only be claimed with a compatible Bitcoin wallet by scanning a QR code.
This feature could alleviate a situation that is often frustrating for merchants, as suggested by BTCPay Server in its Blog.
Issuing a refund via Bolt11 invoice can be a frustrating experience, especially when it comes to expiration time. For example, if you are a merchant creating a refund for your customer, you have the option to enter bolt11. However, depending on your wallet, your expiration time may be significantly less than your processing time. A merchant would see the refund request when he is past due.

BTCPayServer.
More BTCPay 1.6.0 Implementations
Now people using BTCPay Server on a home device, like a Raspberry Pi, they can manage all the information traffic with their clients through Cloudflare, in a safe way. However, they warn that because this network is an intermediary between a local server and a browser, it can "see or modify all your traffic."
Other feature included in this update package allows you to use the point of sale application to make NFC payments. However, it only works for payments with LNURL and via Chrome on Android.
On the other hand, they integrate Joomla VirtueMart. Joomla is a content management system for developing open source websites. VirtueMart is an open source extension to make payments on this platform. This makes it easy to pay with bitcoin on pages created with Joomla.
In addition, the application to customize the use of BTCPay, called Greenfield API, has an option to add Lightning balance and remove unconfirmed UTXO (unspent transactions) when creating a new transaction.
Another interesting implementation is TicketTailor. This function is an event ticket management system that can be connected to BTCPay to accept bitcoin payments. The event organizers Baltic HoneyBadger 2022 They are already testing it.
LNBank was also updated, which is a plugin that allows Lightning Network node managers to create wallets. This makes it easy to connect a Lightning server to the payment network through BTCPay.
A bug in previous versions has been fixed
BTCPay informs that during the last six months they fixed a bug in the configuration of one of the versions of the software. They indicate that in the following months they will give more specifications on this fact and that for security reasons they cannot advance anything. They also clarify that this vulnerability had no known consequences.