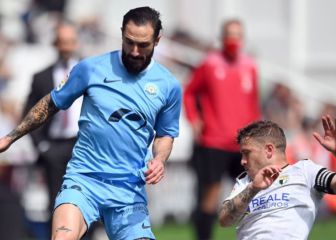 Victory by the minimum of Burgos with goals from Juanma and Guillermo. Very even match in which each team dominated some phases.
Despite the fact that Ibiza arrived more at the beginning, it was Burgos who went ahead on the scoreboard with a good move by Valcarce after a mistake in Molina's exit so that Juanma finished inside the area.
after the break Herrera equalized when Burgos was betterand then he pressed the Ibiza marking the second of Herrera, annulled by not entering completely. He took advantage of Burgos to go ahead with a penalty, the work of Guillermo.
And in the end Ibiza has pushed with everything, having very clear and running into Herrero. A) Yes, Burgos keeps alive its dream of fighting for the last place in the playoffs.
[