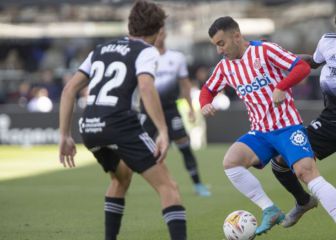 The effectiveness of Cartagena distances Girona from direct promotion
Cartagena thrashed Girona in a match where the effectiveness of the locals made the difference. The goals of Pablo Vazquez, Ruben Castro Y by blasis They give Luis Carrión's team three points and bring him closer to the noble positions.
Girona was in control of the match when Cartagena began to threaten on the counterattack. The first goal came from a corner headed with great ease by Pablo Vázquez. He hadn't even digested the blow when Rubén Castro, in another transition, scored the second.
Girona had them of all colors. Especially clear was a shot from Stuani from the edge of the area that demanded a great save from Marc Martínez. The goalkeeper, by the way, was the best of the match.
In the second part, more of the same. Both teams growing based on transitions. In one of them, led with great class by Rubén Castro, De Blasis headed the 3-0. And they could have been more, but Mo Dauda and Ortuño looked for their goal instead of assisting a colleague.
[