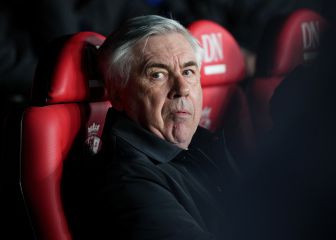 Real Madrid beat Osasuna at El Sadar and the Whites are only four points away from singing the wing. A happy scenario for Ancelotti, who appeared before the media showing pride in the work of his players and satisfaction at the closeness of the goal. The Italian also reassured Alaba, who retired injured six days before facing Manchester City.
Victory: "The match was very good. Especially the second half. Everyone was committed. We have a week to prepare for the semi-final."
Benzema penalty: "The one who throws it fails. Karim has thrown it and nothing happens. Apart from the two penalties, he has played a super game".
Ceballos: "He has played a very good game, he could be the best on the team. He has a lot of quality. He has suffered a lot. He has had a season with problems at the beginning. In the Games, with a fairly slow recovery. The Ceballos that everyone knows has played "
Praise: "We are optimistic. It does not seem serious. An overload. His abductor was bothering him and we have decided to remove him from the field."
Then the Italian appeared before the media at a press conference…
what's left "A little bit still. Everyone has complied, I really liked the game "
If he thought to rest Benzema. "Those who played were fine, that's why Alaba played and also Karim. It wasn't a risk."
Karim and the two penalties. "If there was another penalty, he would take it and the next one will be taken by him"
Camavinga and that early yellow. "This game is a good experience, he got a yellow card soon and then he played knowing that. He has changed his attitude, more attentive so as not to have problems, he has done well".
[