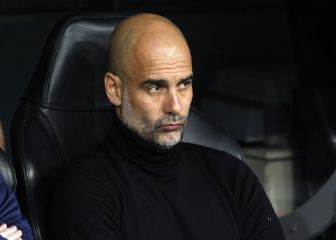 Pep Guardiola (51 years old) is still looking for the Champions League that he lacks. It is precisely in this incessant search to win the maximum continental competition when their defeats have sounded more with goals in the last breath that have ended the aspirations of the Catalan coach, who experienced his first collapse with Barcelona.
You have to go back 12 years, when Guardiola was chasing his second consecutive Champions League with Barça but he found himself in the semifinals against Inter Milan, directed by José Mourinho. The azulgranas were the big favorites but 13 minutes of frenzy at the Guiseppe Meazza were enough for the interistas to score two goals and turned the tie upside down.
Crueler was the second leg of the Champions League semifinals in the 2013-14 season, Guardiola's first at Bayern Munich. His team swept the previous rounds displaying great football before facing Real Madrid, who ended up devouring him in 18 minutes with two goals from Sergio Ramos and one from Cristiano Ronaldo. The game ended 0-4 and the Catalan coach has acknowledged on more than one occasion that it was his "worst defeat".
However, the following season, Barcelona would do something very similar scoring three goals against Bayern in 17 minutes. Another collapse of a Guardiola team, which at Manchester City has also experienced fateful nights in the Champions League: Monaco in 2017, Liverpool in 2018, Tottenham in 2019 and Lyon in 2020 left him out of action in a matter of minutes.
Thus, Real Madrid is the last team to take advantage of Guardiola's 'lapses' of City, and it is precisely the Madrid team that has the best data for its express comeback at the Santiago Bernabéu. Rodrygo, twice, and Benzema from a penalty, scored three goals in just six minutes of play that left the Catalan coach out of a new Champions League final.
[