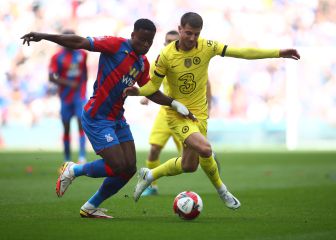 Chelsea reach their third consecutive FA Cup final
A key week for Chelsea who had just been eliminated against Real Madrid at the Bernabéu after a great game by Tuchel's men. Going to the final was key to warding off ghosts and that's how it has been.
Pretty bland game in the first half. The two teams came out with a lot of respect for each other for what is at stake, but the one who led the game was Chelsea. Despite this, Crystal Palace was not at all uncomfortable, as they had the clearest of the first half with a shot from Kouyaté inside the area that Mendy stopped and Ward later hit the post. Chelsea attacked, tried, but could not break down the defensive wall of the 'eagles' in the first 45 minutes.
The second half improved, especially due to Chelsea's staging, which was more aggressive and looked for the goal. It hasn't been a game of many chances, but the ones that the 'blue' team have had have been transformed, first with a shot to the Loftus-Cheek squad and then with a goal from Mount. Palace tried, but Chelsea were very serious in defence.
Finally, it will be Tuchel's team that plays its 5th FA Cup final in six years. It will be next May 14 against Liverpool. A great outcome of this beautiful competition is coming.
[