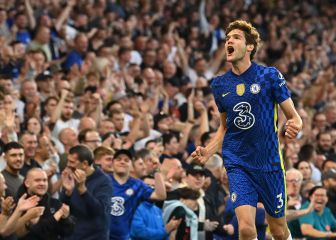 Todd Boehly returned to the stands of Stamford Bridge, waiting to officially take over as president, but the North American businessman found himself with a listless team, lacking in rhythm and that only scratched a tie in their home game against Leicester. With the qualification for the next Champions League in his pocket, Thomas Tuchel's team began the duel with the handbrake on. That cost him the visiting goal, from which he recovered relatively quickly with Marcos Alonso's goalvery close to leaving for Barcelona, ​​but who wanted to make one of his last contributions to the blue cause.
After several weeks in the shadows, another proper name was that of Hakim Ziyech, who returned to the starting eleven and was one of the most lucid in Chelsea's attack, for whom the game was uphill in just six minutes. Those that Leicester needed to get ahead on the scoreboard with a great goal from Maddison, who finished off a play from outside the area that began at the feet of Schemeichel, very precise at the start.
The Foxes had arrived in London with very clear ideas and in the following minutes they tightened their ranks to avoid giving up any opportunity to Lukaku, who had plenty of attitude in this last stretch of the season. But that is sometimes not enough and the Belgian striker found it very difficult to see the goal. Much less had Marcos Alonso, who always steps on the area with the fang of a striker…
The Spanish left-back splendidly volleyed the ball held by Reece James, from side to side, and tied the match after the first half hour. The 1-1, however, did not dislodge Leicester too much, who held his own until the end of the clash: neither Ziyech's hospitalizations, neither Lukaku's shots nor Pulisic's second-row arrivals surprised Rodgers' team, well planted in the field with Mendy as 'stopper', he anesthetized the game of Tuchel's men in the last minutes.
Changes
Barnes (62′, K.Iheanacho), Azpilicueta (71′, Christian Pulisic), Loftus-Cheek (71′, Kante), ayoze perez (77′, Vardy), Kai Havertz (77′, Lukaku)
goals
0-1, 5′: james madison1-1, 34′: Mark Alonso
cards
Referee: Stuart Attwell
VAR Referee: Lee Mason
Kante (46′, Yellow) Lukaku (58′, Yellow) Evans (63′, Yellow) Rudiger (65′, Yellow) Jorginho (84′, Yellow
[