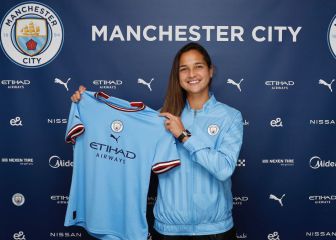 It is now official what was an open secret: Deyna Castellanos is a new Manchester City player. The Venezuelan leaves the Spanish league after two seasons at Atlético where she has not finished having regularity or giving everything that was expected of her when she signed in January 2020 in what was her first professional experience after passing through the American university league. It came as a great star and, although she has performed at an acceptable level, she has not been the differential player that was expected. Deyna arrives in Manchester free after ending his relationship with the mattress group and signs for the next three seasons. There he will meet the Spanish Vicky Losada and it is expected that it will also coincide with Lucia García and Laia Aleixandri, who are very close to also joining the citizien team.
The red wine leaves Spain with 23 goals in 53 games in two and a half seasons who has been in Madrid. Atlético offered him the renewal, but Deyna wanted to compete in the Champions League again and meet a new league. "I feel very happy to be part of this team. I really want to start the preseason and the league and being able to train with my new teammates and coaches. I am anxious to start this new stage in my life and in my career," said the 23-year-old footballer.
The Venezuelan will wear number ten with the one who said "I scored a lot of goals in my university period and I hope to do it here too". "City football is very attractive to me, I feel that I can do many things here and grow as a footballer. The club is incredible", he stressed.
[