By
Hannah perez
The fee-free service will also include additional protection measures against hacking. Coinbase also announced that its clients will be able to borrow in dollars. Shares of the company rose.
***
The leading cryptocurrency exchange in the United States, Coinbase, continues to work to expand its services. Among the company's latest efforts, it was reported that Coinbase is testing a new service without commercial commissions. The exchange It has also presented a new loan product with Bitcoin as collateral.
Coinbase tests new service free of fees
As reported The Block, the exchange has begun testing a new subscription-based fee-free service that would give users access to enhanced features.
According to the report, the product, which has been named "Coinbase One"It will also offer priority phone support and additional account protection. Are Protective measures include the possibility of refunds of up to USD $ 1 million for losses due to theft or hacking, as indicated by a source to that medium.
A spokesperson for Coinbase confirmed the new service to CoinDesk and said that Coinbase One It will allow the exchange's clients to buy, sell and exchange their cryptocurrencies without commissions. The unidentified person stressed that spread fees will still apply and that the product is in its early stages.
We are always looking to learn more about how we can better serve our customers in different ways. Right now, we are still in the early stages, so everything related to the future experience of the product will depend on the feedback we receive from our users.
A small group of users have already started testing the new product, according to reports. The exchange has not yet made any official announcement about this product and it is unknown how much it will charge Coinbase for the new service.
Loans of up to USD $ 1 million with BTC as collateral
In a separate development, Coinbase announced this Wednesday that from now on some of its clients will have the possibility of requesting loans in US dollars from the exchange using their bitcoins as a guarantee. This was reported by exchange Tuesday in a release shared through your Twitter account.
We are pleased to announce that eligible customers can now borrow up to [USD]$ 1 million from Coinbase.
Big news for the #BTC set …

We're excited to announce that eligible customers can now borrow up to $ 1 Million USD from Coinbase.

Learn more here ????https://t.co/3aKzoWkmqP pic.twitter.com/LC3s9ARp3K

– Coinbase (@coinbase) November 2, 2021
According to the statement, users will be able to request the loan using their bank accounts or PayPal. Using your funds from Bitcoin As collateral, the exchange's clients will be able to borrow up to 40% of the value of BTC held in their accounts (up to USD $ 1 million). In addition, those who access the loan "they will pay only 8% APR [tasa de porcentaje anual] no credit check".
"Each month you only need to pay the interest owed ([USD]$ 10 minimum)", Indicated Coinbase, adding that there are no upfront payments or late fees. "This line of credit has a demand feature and is paid within 2 years after openingThe company continued.
The Bitcoin you use as collateral remains safely on Coinbase. It is not loaned or used for any other purpose.
Exchange shares go up
The announcement of Coinbase about its new lending option comes a few weeks after the exchange abandoned the launch of a lending product based on the stablecoin USDC. Plans for the product were withdrawn after the US Securities and Exchange Commission (SEC) threatened to sue the company if it proceeded with the launch.
As reported DailyBitcoin at the time, the product was designed to provide 4% interest to savers on their USDC holdings. But US regulators warned that the product would violate federal securities laws.
So far, the watchdog has not issued any statement on the company's latest loan offer in dollars; Although after what happened, there is doubt about whether the SEC will interfere in the plans to Coinbase.
Meanwhile, it appears that the latest efforts of the exchange By expanding its services with digital currencies, it is proving favorable for the company's shares. The price of the shares of Coinbase has risen 0.29% in the last 24 hours, according to data from Yahoo Finance. The increase has boosted COIN shares to a new high of $ 340 USD since its IPO in April.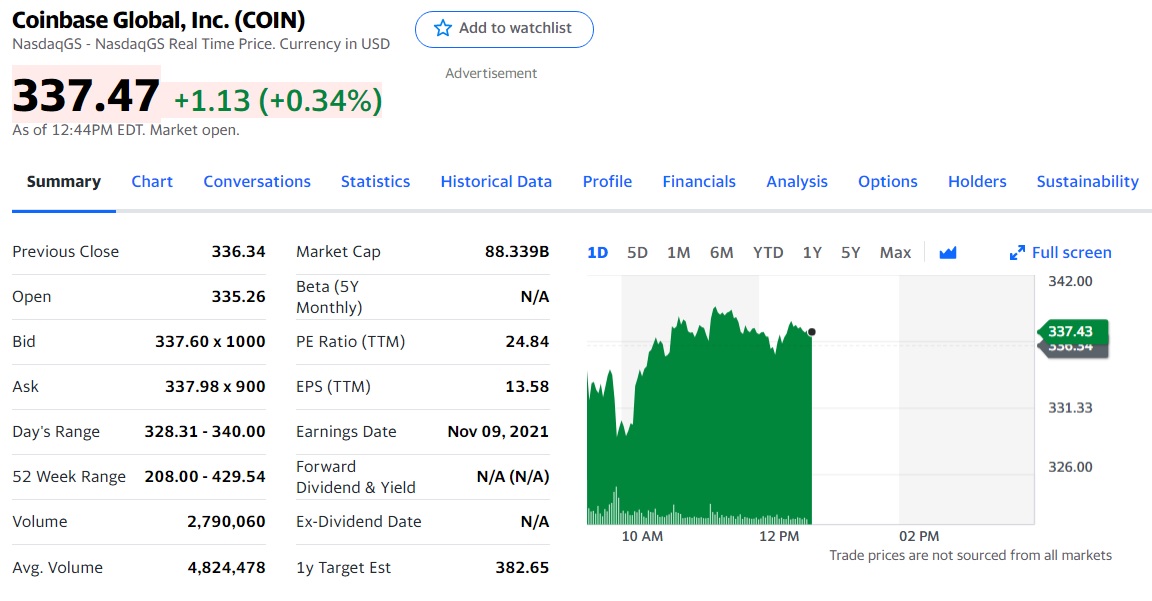 The rally in exchange stocks also coincides with a bullish movement in the digital asset market, which could also be favoring the stock market.
---
Recommended reading
---
Sources: The Block, CoinDesk, AMBCrypto, file
Hannah Estefanía Pérez's version / DailyBitcoin
Image from Unsplash