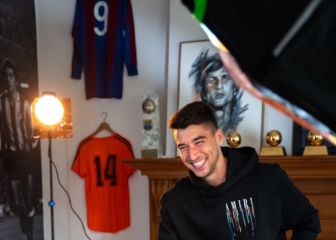 Promoesport, an international representation agency with 15 delegations around the world and more than 350 professional clients, and the Johan Cruyff Institute, a leading sports training center in the world, have signed a collaboration agreementn to develop and encourage education among footballers. The event was attended by Marc Roca, Bayern Munich midfielder.
As part of the agreement, the agency's soccer players will have access to more than 90 sports programs with exclusive conditions. Likewise, between Promoesport and the Johan Cruyff Institute we will generate knowledge for the benefit of the sports industry and we will promote and exchange talent through different initiatives.
Promoesport and the Johan Cruyff Institute will cooperate together under the mission of training leaders and enriching the football sector. "The agreement establishes channels of collaboration between Promoesport and the Johan Cruyff Institute. We give each other feedback and work to provide access to training", says Mariël Koerhuis, General Manager of the Johan Cruyff Institute.
On the other hand, Berta Pujadas, co-founder and CFO of Promoesport, expressed the step forward that this agreement represents. "At Promoesport we not only think about the player's present, about his sports career, but also about his future. A plan B so that they can function in the future, to have other job prospects", he concluded.
Regarding the importance of training for soccer players, Mark Rock declared: "It is very important to dedicate time to study, to generate knowledge, to learn. We have a short race and a plan B is important to have a better future".
This agreement is part of Promoespor's sustainable growth strategyat a global level, focused on offering the best and widest service to its clients with which to help them grow on and off the field.
[