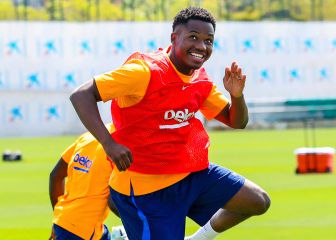 Getafe and Barcelona they have two ways of approaching the game that will serve for Quique's men to say goodbye to their fans and for Xavi to continue polishing his record as a visitor. The guy from Terrassa still doesn't know what it's like to lose a game away from home. Since Xavi took command of the team, the Blaugrana have not fallen away from home, adding 13 games undefeated and culminating that streak with six wins in the last six trips (follow today's match live on As.com).
This would be an exciting match approach if the variable that a point for each of the teams would mean a shared success did not enter. With the tie, Getafe would ensure permanence and Barça second placethat is to say the runner-up, that is to say the Super Cupthat is, eight million out of pocket for the budget for the next campaign.
Therefore, the game can be played like pasta: al dente, trying to give some joy to their fans and the others scoring a great record away from home, or to the point, that is, without too much hostility. Peace here and then glory.
The truth is that neither of the two teams arrives at the meeting with too much left over. Barça can present nine casualties between sanctioned and injured, while Getafe, without making too much noise so as not to jinx the daybegins to prepare a party for a permanence that has sweated a lot.
Nobody doubts that both teams will start giving everything, but if in the final stretch of the game the landscape is benevolent, nobody will break anything.
[