To successfully navigate the complex waters of inclusion of people with disabilities (PwD), you need to equip yourself with the right tools. To achieve this objective, the IDB developed two publications that aspire to contribute to all companies that provide infrastructure and energy services so that they can advance an agenda of greater inclusion of people with disabilities.
To begin with, it is to establish what disability is and is not. The old paradigm was based on a rehabilitative vision, while the new social model, which the world accepts today, establishes that disability is a condition caused by environmental barriers and attitudes that prevent people's full and effective participation in society. .
It is not a disease and, above all, it is not an exclusive condition of the person. It is up to all of us to eliminate the different barriers. Many of these barriers are in infrastructure that does not meet accessibility standards. Latin America has a historical debt in this matter.
Despite the fact that the countries of the region have national legislation that promotes the rights of persons with disabilities, there is still much to be done in terms of the development and enforcement of regulations, especially in relation to physical accessibility, and the construction of infrastructure. .
Universal design and reasonable fit
In this framework, under the Principles of Universal Design and reasonable adjustments, the proposals of the accessibility and inclusion guides are structured. The main objective is to reduce segregation in spaces to a minimum, ensuring accessibility for the maximum number of people. How much does reducing to a minimum imply? Experience shows that something more can always be done, and this has resulted in advances in accessibility and inclusion in recent years.
At the same time, it has brought out extraordinary human creativity. How do we encourage this creativity? First: "Nothing about us, without us". This motto refers to the fact that no decision or policy on accessibility or inclusion should be made without the direct participation of people with disabilities in the discussion tables. In second place: data. Expand the capture and processing mechanisms to generate more and better data and, fundamentally, open its use to the community.
It is from these premises that the IDB developed and makes available two documents to guide the inclusion of people with disabilities in infrastructure and energy projects. Both publications take into account international experience, provide recommendations, and help the reader with examples of how to replicate these practices.
Accessibility to Water and Sanitation, Energy and Transport services
The first technical note developed by the IDB, Accessibility to Water and Sanitation, Energy and Transportation Services, compiles research and case studies on the physical, social and communication barriers that people with disabilities face in accessing public services. Likewise, it offers an accessibility diagnosis by type of barrier (architectural, urban, communication and electronic) for water and sanitation, energy and transportation services.
The technical note presents opportunities for improvement and guidelines that can be implemented to eliminate -or reduce- barriers to access to public services and provides examples of good practices for accessibility to public services for people with disabilities. Download it here.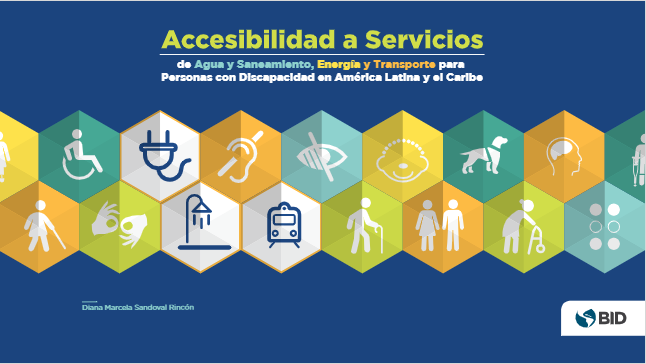 Inclusive service guide for people with disabilities in the infrastructure sector
The second post, Inclusive service guide for people with disabilities in the infrastructure sector It consists of a practical tool that indicates step by step how a company can transform itself to offer an inclusive service to its clients, regardless of their conditions. Aimed at all companies that interact in some way with a client: electricity distributors, water payment points, bus stations or subways.
The guide is an invitation to promote and facilitate the inclusion of all people. Its objective is to contribute to the achievement of the proposed goal by presenting basic guidelines, good practices and international examples that allow improving the quality of services through the gradual realization of reasonable adjustments that any organization can implement. These adjustments involve simple but significant transformations of corporate policies and customer service processes in its different channels: face-to-face, telephone and virtual. The guide will be available soon.
We invite you to learn more about how your country and organization can do more to advance this important agenda of access and more inclusive infrastructure services for people with disabilities.
These two publications are the result of the sector's effort to mainstream the inclusion of people with disabilities in all sectors of the region, especially in infrastructure and energy. We motivate them to support development in the region through inclusion.