Key facts:
The new Exodus extension allows viewing NFT and browsing Solana's Web3.

From desktop wallet to browser extension, Exodus plans to add more networks.
Exodus, a pioneer wallet in the cryptocurrency industry, already has an extension to navigate Web3, facing Metamask, the main application in this market.
exodus it is one of the wallets most popular in the ecosystem of cryptocurrency networks by facilitating access to more than 100 assets since 2015. Its mobile application in the Google Play store has more than 1 million downloads and it also has its desktop version that is quite popular in the community. Due to this reputation, its foray into the Web3 wallet industry is striking.
A Web3 wallet is a wallet that allows you to interact with funds and decentralized applications, connecting electronic money protocols with Internet applications. In short, they are those apps that make it possible to exchange and store NFT works of art, play-to-earn video game characters or cryptocurrency funds.
Metamask is one of the greats of this ecosystem, It allows you to use your wallet from a browser to make transactions on networks such as Ethereum, Solana, Tron and Play-2-Earn games such as Axie Infinity. However, In light of Exodus's plans to expand into the DeFi market, the wallet could emerge as a new competitor to Metamask..
And what does the new extension of this firm offer? In principle, it will only work for cryptocurrencies and tokens from the Solana network, being available for browsers such as Google Chrome and Brave. Among its most outstanding functions, they explain that the Exodus browser wallet will allow you to buy, sell and exchange (swap) cryptocurrencies; as well as issue, sell and display NFTs.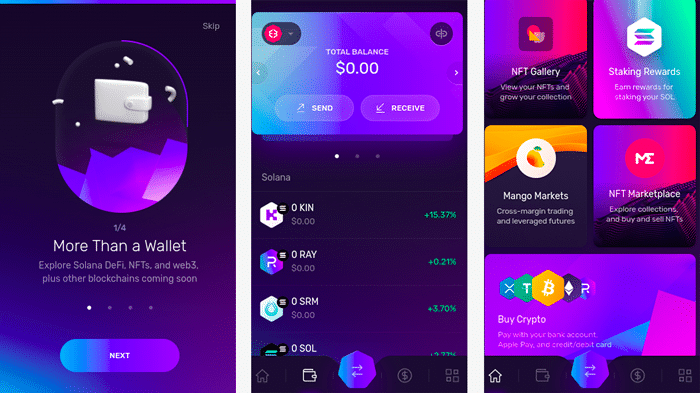 Similarly, users will be able to navigate through Web3 projects, make stake of Solana and view the history of your savings in cryptocurrencies, in addition to being able to buy cryptocurrencies with debit cards, credit or bank account.
Although Exodus will initially remain focused on the Solana market, they do not rule out the possibility of expanding to other DeFi networks. In this sense, if the wallet manages to integrate into blockchains such as Binance Smart Chain, Ethereum and Avalanche, it could become a renowned firm in this industry.
This, especially, if we take into account that although Metamask is one of the heavyweights in the industry, it can become a complicated wallet for beginners who want to take their first steps in the world of Web3. In addition, Metamask has had some performance issues this year, a scenario that opens the door for other players and that Exodus could take advantage of if its new extension proves successful.
Exodus prefers Solana over Ethereum (for now)
As mentioned before, it is notable that the new Exodus wallet does not work with Ethereum at the moment, but will be focused on the Solana market. A decision that is striking, given the importance of the mentioned network in the decentralized finance market and being one of the most popular networks in this industry.
Although they are not closed to the opportunity that in the future they incorporate this network into the functions of the wallet, they explained their reasons for not preferring it at the time of its launch. The Exodus board noted in a publication that the reason to start with Solana is that the high commissions of the Ethereum network make it difficult for new users to access this ecosystemadding:
"Surf [Ethereum] it is unpredictable and the expensive fees can be restrictive for the average person looking to experiment with small sums of money. While Exodus plans to add Ethereum soon, launching with Solana made more sense.

Like Ethereum, Solana is a smart contract platform that hosts a world of Web3 applications such as decentralized exchanges and lending platforms. Unlike Ethereum, Solana can scale to hundreds of thousands of transactions per second at a cost so small that you would have to send thousands of transactions to spend just $1 in fees."

exodus
Although not a definitive rejection, Ethereum has been very bad standing with Exodus when receiving criticism of the company. Meanwhile, other blockchains that have dedicated themselves to exploring the decentralized finance ecosystem continue to grow in the eyes of cryptocurrency companies, gaining more and more users and followers, as is the case of Solana, which won the opportunity to launch the functions of Exodus's first Web3 wallet.