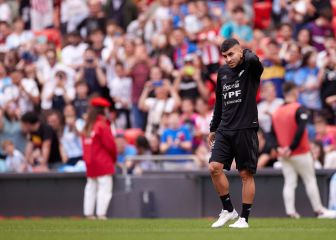 A transverse line full of knots splits Ángel Correa's chest in two. A tremendous seam that, since 2014, has accompanied him: when he signed for Atlético, in the medical examination, a benign tumor was detected in his heart and he was operated on by a doctor in New York immediately. In fact, his recovery delayed his debut with Atlético for a year. The 2014-15 season was blank at the club level and his only competition was the South American U-20 of which he was proclaimed champion with Argentina (in a team that also included Cholo's eldest son, Gio).
The alarms went off yesterday afternoon. Correa left the concentration with the Albiceleste team. The reason? A subcutaneous lesion. The same footballer wanted to clarify from his social networks what exactly it is about. And yes, he has to do with that scar that splits his chest in two.
Correa's words
"Thanks from my heart… It made me want to write this letter to tell you how healthy I am and to thank you for your concern.. It does me very well as a person that many call me and ask me how I feel, since I receive strength from you permanently and without those energies I could not grow day by day in what I love, which is simply playing soccer", he began. "The Monday they are going to correct a scar that I had left from an old intervention that I had years ago in the United States. In case you don't remember, I'll review them: in 2014 I went through a difficult situation when I underwent cardiac microsurgery. I was barely 18 years old and I got ahead with faith and with love for life, because that is what it is all about, never giving up even in the ugliest, never giving up. Keep poking and thinking positive!" she continued.
"And I'm going to tell you something, a nurse who took care of me in that hospital, without knowing me and without knowing who I wasapproached me by the bed and whispered in my ear that I should be proud of my scars because they would serve as a map so I wouldn't get lost in life, and that each scar teaches something, both those of the skin and those of the heart and feelings. For all this, I want to tell you that if God wants, in a week I will be there to play again and to continue giving my best in every place where I have to be. I believe that life is this, it teaches us at every moment that nothing is guaranteed, that every minute is worth living, breathing, smiling in the hands and crying (of joy) in the good times.yes But above all, be grateful to those who help you.", he revealed, to say goodbye with a thank you to Atlético, employees, colleagues and the fans.
[