The Crazypool mining pool incorporated new withdrawal methods to collect the reward that is obtained in Ethereum. This is a pool that allows you to withdraw ether (ETH) through side networks of Ethereum, thus reducing the payment of commissions, which in the main network have been high for a long time.
Crazypool is a pool compatible with BNB Smart Chain (BSC), Polygon (previously called Matic), OkexChain (OEC), Kucoin Community Chain (KCC), and Huobi Eco Chain (HECO). Each of these networks owns a tokenized version of ETH.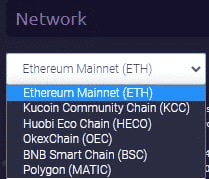 The main implication of this support for Ethereum sidechains is economics. Because in all these chains transactions are cheaper, Ethereum mining operations can be more profitableif withdrawals are made using one of these tokens.
The second implication has to do with the availability or liquidity that can be obtained if one takes into account that several of the main exchanges allow deposits to be made through these cryptocurrencies.

Please note that any withdrawal via the Ethereum mainnet can be made via any exchange that operates on that network.
Other exchanges depend on whether they support each of these chains. The main ones are Binance (BSC), Okx (OKExChain), Gate.io (BSC and Polygon), FTX (BSC), Kucoin (BSC), Crypto.com (BSC and Polygon). Also Coinbase has just added the Polygon network, with which you can deposit ETH on that exchange.
Therefore, we see that the compatibility of these exchanges is related to the networks they manage or with which they provide exchange services.
What commission is paid in each of these networks?
The simple answer is "less than on the Ethereum mainnet." Now let's see in detail cases of transfers and how much is paid on each network on average at the moment. Let's start from the assumption that it is more expensive in Ethereum. As seen in the following image, of real cases, a withdrawal of 0.00119 ETH pays a transaction of 0.000434 ETH.

In the case of Ethereum side networks, the commission is equivalent to an amount less than one cent of the dollar (USD).
0.000000148 ETH – OKExChain
0.000000913 ETH – 0xPolygon
0.000043618 ETH – Binance Smart Chain
For withdrawals to the Binance exchange, it should be noted that Crazypool is the only one that allows direct withdrawals. If we compare it with other pools such as Ethermine, Hiveon and Flexpool, we will observe that the process is longer in these, since up to 6 steps have to be followed, which include swapping from WETH to MATIC and then exchanging this token in the same exchanges.
In some pools like F2pool and Hiveon you can make withdrawals free of charge through the Ethereum mainnet, as long as the withdrawal is greater than 0.2 ETH. On the other networks you have to pay network costs of 0.0015 ETH with a gasprice of 70 Gwei.
At Crazypool the minimum withdrawal is 0.001 ETH. If we consider that a miner that provides the network with a hashrate of 100 MH/s can earn that amount in one day, we would be talking about the possibility of making cheap daily withdrawals in this Ethereum mining pool.
There are other benefits of withdrawing from Crazypool through Ethereum side networks. For example, If withdrawals are made to the Okx exchjange, no personal or KYC information is required. BNB Smart Chain is compatible with many other exchanges and Polygon in compatible with Crypto.com.
Do miners receive ETH if they use Ethereum side networks?
According to Mr. Crazy, a developer of crazypool with whom we had communication, "Some do not understand that they will receive ETH on the network they select". He explains that this is because in these networks you can make transfers with wrapped coins (wrap). In the case of Polygon, WETH, in the case of OkxChain, the ETHK token and in the case of BNB Chain, it is Binance-peg Ethereum.
In order for the result to be optimal, it also suggests configuring the transactions according to each network and paying the appropriate gas price.
Ethereum Mainnet: 70 Gwei
Polygon: 70 Gwei
Binance Smart Chain: 10Gwei
OKxChain: 1Gwei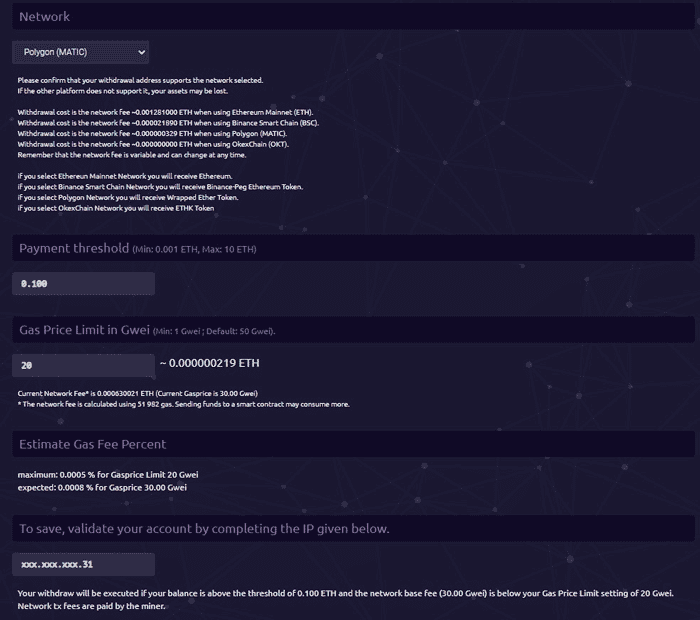 To learn more about how to mine cryptocurrencies in Crazypool, you can review the tutorial that CriptoNoticias made.
Below you can see how much the commission payout is for each network, based on 0.01 ETH withdrawn from Crazypool.

What is Crazypool?
Crazypool was founded in 2021 and in this short period of time it has managed to climb to the top positions in the ranking of the most used pools in Ethereum, ranking between the first 25according to Mining Pool Sats.
This pool offers up to 7% more profitability than others and allows you to mine Ethereum (ETH), Ethereum Classic (ETC) Y location. If we go to the top of the most used pools for these cryptocurrencies, we will find Crazypool among the first 10.
As for the return you can get, Crazy Pool has been placed in the top 3 of the ranking 8 times during the last 12 months, in accordance with Mining Pools Profits. In this period of time, she has led the ranking for profitability 5 times.
All these benefits can be increased if you are an Ethereum miner, because now Crazypool allows you to withdraw profits directly through Ethereum side networks, which considerably reduces commission expenses.