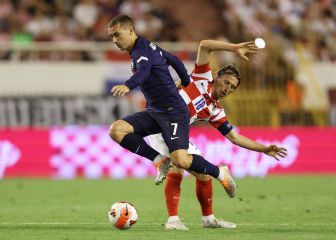 France gets stuck against Croatia
The first part didn't have much of a story to tell. Two very defensive teams, which did not mind not having the ball. Croatia put a little more spark in the early stages, but France took possession of the ball for a good part of the first act and had some dangerous chances, especially Nkunku's goal disallowed for offside. Budimir warned by the Croats, who were trying to break the French lines of pressure, very focused on defense.
The second part had a similar script, with a dominating France and a Croatia that could not face the French line of resistance. Deschamps' men came out with the intention of quickly getting ahead on the scoreboard and that's how it was. A fantastic through ball from Ben Yedder put Rabiot alone, who beat Livakovic at the near post. From the goal the domain was, almost majority, of the Croatian team. Luka Módric tried it with a shot from outside the area with his left foot that Maignan repelled. France was relatively comfortable defending with two lines of four close together and blocking the Croats' attacking moves, which could hardly create any danger. The Croats did not give up and looked for the French goal and in an isolated move, Orsic took a penalty for his team. The VAR reviewed the play because it had been called offside previously, but in the end there was no offside position for the Croatian striker. Kramaric converted the penalty tricking Maignan and put the tie with 5 minutes left to play. Orsic had it with a shot from outside the area that forced Maignan to show off and on the next play Griezmann had it after an error by the Croatian defense.
Either of the two could win, but in the end the points were distributed in a game with little rhythm and thick between both teams.
[