By
Hannah Perez
The miner sold 3,000 BTC, almost half of its treasury of the flagship cryptocurrency, as part of a strategy to readjust its reserves amid falling prices.
***
Bitfarms sold almost half of its BTC to reduce debt and increase its liquidity.
The company still has 3,349 bitcoins, and it produces 14 BTC daily.
Miners feel pressure from falling prices in the market.
---
Amid price turmoil in the cryptocurrency market, crypto mining company Bitfarms has chosen to restructure its holding plan for Bitcoin in order to improve its liquidity and reduce indebtedness.
The Canadian company, listed on the Toronto Stock Exchange, reported last week it sold a total of 3,000 bitcoin (BTC) for approximately $62 million to back part of a debt collateralized in the cryptocurrency. The sale represented almost half of the total reserve of Bitcoin of Bitfarmswhich now stands at 3,349 BTC.
In a release Posted this Tuesday Bitfarms said the proceeds generated from the sale helped increase its liquidity, while also allowing the miner to draw down a line of credit backed by Bitcoin of digital-galaxy at $38 million.
The Toronto-based miner also confirmed that the strategy raised its corporate liquidity to $100 million and that it closed a $37 million equipment financing deal with NYDIG. Bitfarms had advanced these announcements last week in a releasewhich was shared through his official Twitter account.
Bitfarms Executes Strategic Actions Increasing Financial Flexibility

– Enters New Equipment Financing Agreement with NYDIG for US$37 Million

– You reduce US$100 Million #BTC-backed Credit Facility to US$66 Million

???? more info: https://t.co/81p537ouOl

???? $BITF #BitcoinMining pic.twitter.com/pVVEKNPGoS

—Bitfarms (@Bitfarms_io) June 17, 2022
Last week, as you remember CoinDesk, the mining company had reported the sale of 1,500 BTC to reduce its debt. This week's announcement confirms that Bitfarms opted to double this sum, a move that reduces his holdings of Bitcoin. According to the report, the company currently has an average production of 14 BTC per day.
Bitfarms still believes Bitcoin will go up in the long run
The news comes at a time of great pressure for miners and holders of Bitcoin, who fear a recession in the markets.
The flagship cryptocurrency dipped below $20,000 last week, more than 70% below its all-time price high recorded in November. The situation is not very different for the rest of the altcoinsas the global capitalization of cryptocurrencies has shrunk to less than $1 trillion, after reaching $3 trillion last year.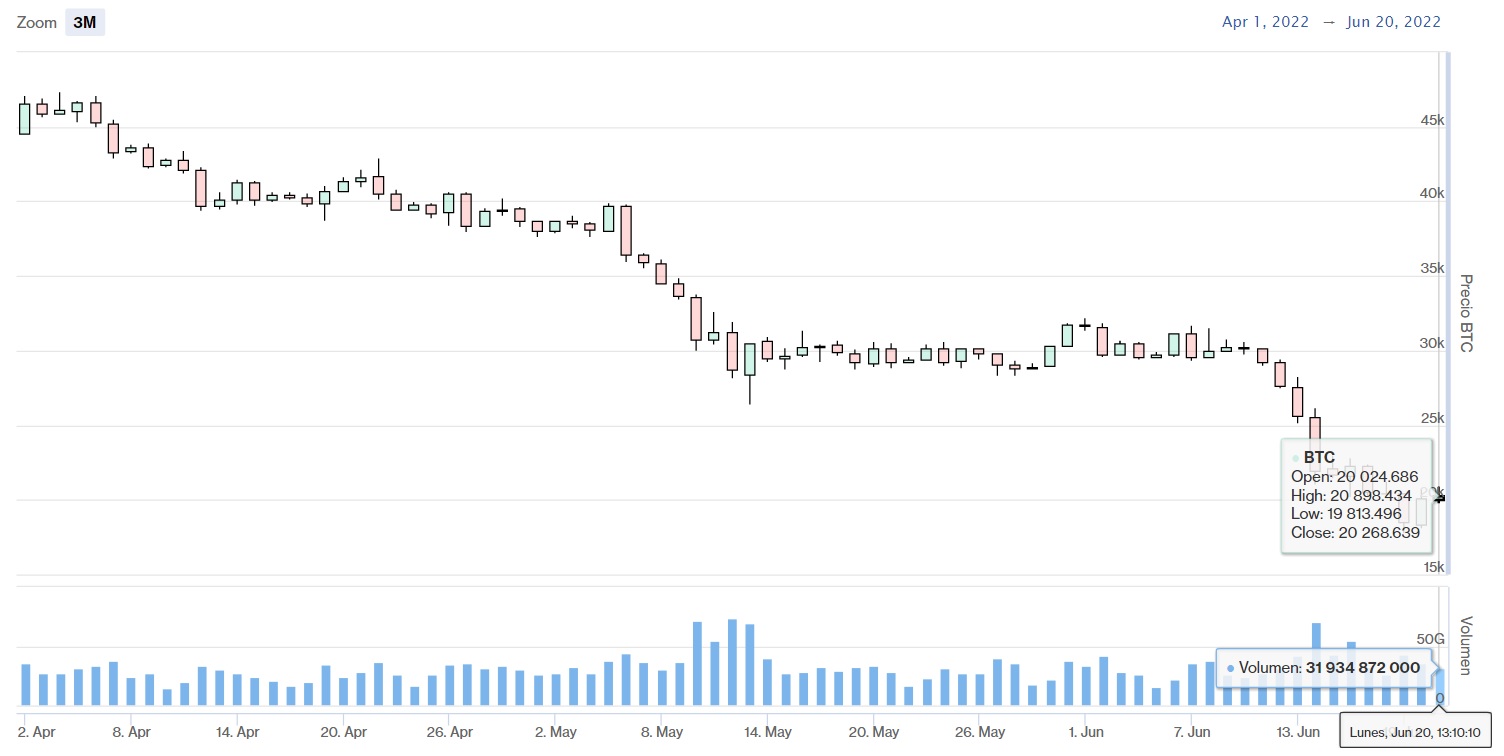 In accordance with CoinDeskthe fall in the price of Bitcoin it has caused miners' profit margins to decline, after many of the miners went heavily into debt to finance their operations.
"In consideration of the extreme volatility in the markets, we have continued to take steps to improve liquidity and deleverage and strengthen our balance sheet.", commented Jeff Lucas, CFO of Bitfarmsin today's statement.
According to CoinDesk, Bitfarms was one of the miners with a strategy of maintaining his daily production of bitcoin on its balance sheet, using loans and stock offerings to finance expansion and day-to-day costs.
In April, when Bitcoin was trading at almost double its current price, the company's director of mining, Ben Gagnon, had expressed confidence in a rise of the flagship cryptocurrency. The long- and medium-term potential for Bitcoin "is significantly higher" than the cost of capital to borrow against cryptocurrencyhe said then in an interview, as quoted CoinDesk.
In his most recent statement, Lucas reiterated that in Bitfarms follow"being optimistic about BTC price appreciation in the long term", and that the change in holding strategy allows the company to maintain the integrity of the business while continuing to grow.
Since January 2021, we have been financing operations and growth through various financing measures. We believe that selling a portion of our BTC holdings and daily production as a source of liquidity is the best and least expensive method in the current market environment.
---
Recommended reading
---
Article by Hannah Estefanía Pérez / DailyBitcoin
Unsplash image edited in Canva
WARNING: This is an informative article. DiarioBitcoin is a means of communication, it does not promote, endorse or recommend any investment in particular. It is worth noting that investments in crypto assets are not regulated in some countries. May not be suitable for retail investors as the full amount invested could be lost. Check the laws of your country before investing.