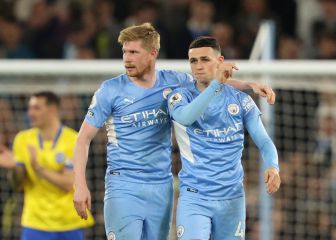 Now you, now me. It seems that this will be the story that repeats itself at the top of the rankings between now and the end of the season. Two teams, Manchester City and Liverpool, who are not one, but two or three steps above the rest. Two teams separated by a single point after the victory of Guardiola's against Brighton, and after Klopp's did the same against Manchester United on Tuesday. City started well, dominating and enclosing Brighton in their field. Although without bothering him too much. All in order. Some, the locals had the ball and created chances. The others, the visitors, seeing them coming. But without going through too much trouble. Surviving. As they did in North London before surprising Arsenal and Tottenham, in recent days. They tried to take a step forward half an hour into the game, stretching lines and combining up to Ederson's front, but they only offered space for the sky-blue runs.
Kevin De Bruyne returned to the starting lineup to play his 300th game for Manchester City. He was a substitute in the FA Cup semi-final. He did not make it to the match against Liverpool, suffering from ankle discomfort that forced him to be substituted at the Metropolitano last week in the Champions League. Against Brighton he got even. There are no doubts about the Belgian's physical condition. After the local barrage in the first minutes of the restart, Kevin generated the first goal. He received the award at his insistence. He started in midfield. Unstoppable. Not even throwing themselves on top of him did the rival defenders manage to pay him. A rebound in Cucurella leaves Mahrez alone against Robert Sánchez. Another rebound, when the Algerian shot, deflected the ball from the reach of the Carthaginian goalkeeper. open the can, Brighton was done at night. Foden got another goal after another rebound, and Bernardo closed the account in the last minutes. In a move in which Zinchenko, De Bruyne and the Portuguese connected at one touch each to certify, in case it wasn't clear, the triumph of City, the leader.
Newcastle continues adding
In case there were any doubts, the new super project of the Premier League has certified its continuity in the competition for another season after beating Crystal Palace. The second round has been a real revolution, despite fearing in the first for the loss of the category. Almirón, after half an hour, scored the only goal of the match assisted by Bruno Guimaraes. In the other match of the day, Richarlison saved a point at the bell for Everton, who once again gain some oxygen for the relegation zone. Leicester, focused on the Conference League, is still far from the European positions. Harvey Barnes' goal promised a quiet afternoon, but they ended up giving up the win at the bell.
Changes
Ruben Dias (45′, Ake), Adam Webster (60′, Tariq Lamptey), Jeremy Sarmiento (72′, Moises Caicedo), Zinchenko (76′, John Stones), Neal Maupay (76′, Welbeck), gabriel jesus (82′, De Bruyne)
goals
1-0, 52′: Mahrez2-0, 64′: Foden3-0, 81′: Bernard Silva
cards
Referee: Mike Dean
VAR Referee: Chris Kavanagh
Alexis MacAllister (78′, Yellow) Adam Webster (80′, Yellow) lewis dunk (88′, Yellow
[