---
"You are a bad mom!"
"You are stressed, and your stress damages the children!"
"You are never up to par!"
Ah if we could silence her on command, this damn guilt!
But… it can't disappear with the snap of a finger.
And even if we force ourselves to think of something else at the moment, she goes to hide in a corner, ready to reappear at any time.
The first step is to realize that we all have our "limits" (emotional, physical, and mental).
They stood up as we built up, our lives, the traumatic events we went through and the way we were supported.
We hope to have conveyed the message well in our last articles. 🙂
But that is not enough.
To completely get rid of this guilt, it is necessary to "release" it at the source.
That is to say: act on its root causes.
Why ?
Guilt is like a pet.
The more we feed it, the more it grows.
If we want him to gain less weight… then we have to stop feeding him.
Logic.
How ?
Your guilt is fed by 3 types of "food":
Our beliefs -> "I am a stressed mom"
Our demands on ourselves -> "I have to please everyone"
Our "devaluing thought loops"" -> "I scream = I am not up to it"
The difficulty is that…
These "foods" are part of us, of our construction.
To protect us, our brain has built beliefs, thought loops, injunctions and demands…
These thoughts are automatic, often unconscious, and we have no "control" over them…
Worse: if we try to block them, to put them aside, to take on us… then we add additional pressure to ourselves.
And this pressure comes to fill our "Bathtub of stress".
(Remember yesterday's post?)
And so, we are doomed to repeat the vicious circle: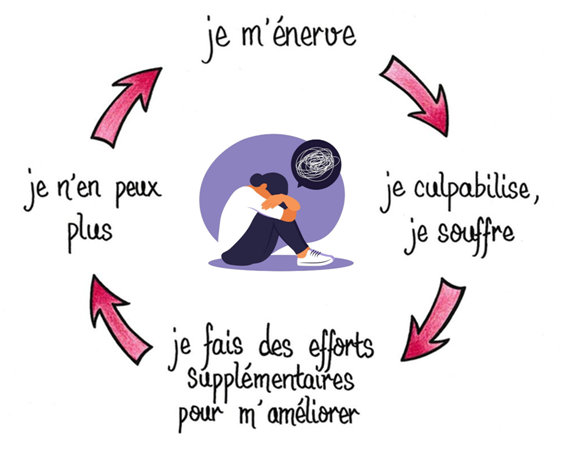 So how do you stop feeding guilt?
Already, do not take yet another good resolution of the type:
"From tomorrow, I accept my limits".
Because you risk failing if you don't take the time to remove the causes of your guilt.
Give yourself time to do things in order.
To remove the causes of guilt and be able to think differently, there are two major phases to go through, two major doors to open:
Door n°1 – Introspection : you must understand what are your OWN "foods": your beliefs, your demands, your thought patterns.
Where do they come from ? What weight do they have on your current thoughts and behaviors?
Door n°2 – Learning new behaviors / thought patterns : This is the phase of changing your ways of thinking, of reacting.
When you have a good understanding of how your "foods" work, you can, with a little practice, easily transform them into nourishing and constructive foods.
Gradually, your thoughts will change.
Your beliefs will change.
Your demands will decrease.
Your thought loops will transform.
And your guilt will no longer be fueled 🙂
---
If you want to go further,
Or if you don't really know how to go about it,
We built the whole program "Imperfect… and proud of it" with many personalized exercises that follow the two stages "Introspection – Learning".
By doing these exercises… your brain will automatically get used to thinking differently, and let go without remorse of the devaluing thoughts that waste its time and energy.
In the program "Imperfect… and proud of itand", among other things, I suggest you discover:
How to welcome your excessive emotions and your sufferings

: an exercise to no longer seek in vain to remove them… but to calm down (and how to go about it)

The powerful method of Union of Opposites

: how to integrate into your brain that you will never be 100% perfect or 100% incompetent!

A guilt-free exercise

: 6 questions to show you how often you are brilliant, capable and resourceful – to fully accept being angry or tired at times (and that feels a lot of good!)

A Podcast "Stop the mental ruminations"

: the super effective exercise to turn your mind around in a few minutes, when it ruminates on a negative judgment about yourself (and/or others). An exercise that allows you to reconcile with your mind.
Click here to register and take advantage of the "special spring and renewal" rate (-50%), until Sunday April 17!
Here are some testimonials from the 604 mothers who are already members of the program: