Within the framework of the ETH Latam conferences, in Buenos Aires, Argentina, Mariano Conti shared with the attendees his experiences and opinions on decentralization, stablecoins and Ethereum.
Mariano Conti worked for four years as a developer at MakerDAO, where he was especially involved in creating oracles. His experience in everything related to Ethereum, stablecoins and decentralization make him a luxury exponent for these topics.
Conti's presentation began with a statement that is unknown or ignored by many in the cryptocurrency ecosystem and that can be paraphrased in a few words as follows: if a network or web3 product is not truly decentralized, it is preferable to use Microsoft Excel or any centralized tool that works like a ledger.
One of the controversial issues related to decentralization is governance in cryptocurrency networks.
In this regard, Conti used the term plutocracy to define governance in projects like MakerDAO. This is because those who have more tokens have more influence in decision-making. However, the developer believes that the evolution of this technology promises a lot for the future.
Decentralization and the risks of the crypto ecosystem
Another important aspect that Conti presented about decentralization is risk. Something that everyone should ask themselves when entering the world of cryptocurrencies is how much risk are they willing to take?
There are currently cases under development that can alert about some of the risks that those involved in projects related to cryptocurrency networks run.
One of the most recent examples is that of Tornado Cash and USDC. The US government's sanctions on Tornado Cash, after accusing this platform of lending itself to money laundering, gave rise to Circle, the company that issues the stablecoin USDC, will freeze the funds of addresses related to Tornado Cash.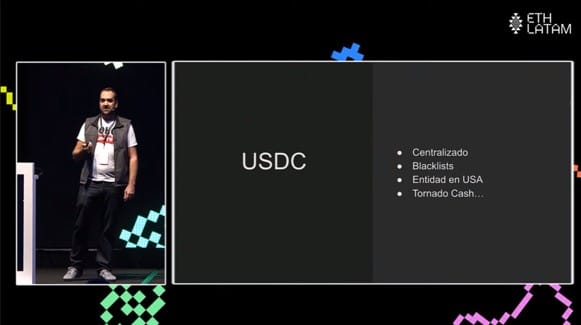 Conti expressed his concern about the situation with USDC, as he foresees that it may set a precedent that affects the development of tools related to stablecoins. In fact, the developer acknowledged that something similar could happen in MakerDAO. This because 49% of its reserves are in USDC.
Speaking of which, CriptoNoticias recently reported that the founders of MakerDAO are considering selling all of the association's USDC holdings.
His intention is to avoid a situation similar to that of Tornado Cash. The problem is that a sale of that magnitude could cause MakerDAO's stablecoin DAI to lose its peg to the US dollar. However, the decision of which way to go is not up to the majority of DAI users, but up to the founders.
The founders have the majority of the MKR to vote on. So, although the currency and the contracts are decentralized, the voting power was centralized in a few people who can define the future of this currency (DAI).

Mariano Conti.
Ethereum bridges and DeFi
Bridges between Ethereum and other sidechains was the next point Conti talked about in his lecture. The amount of money stolen from these bridges so far in 2022 is very high. The attack on the Ronin network bridge alone, which serves as a platform for Axie Infinity game tokens, mined over $600 million in ETH and USDC, of ​​which only a small portion was recovered.
Although the centralization of these networks parallel to Ethereum is something that facilitates attacks of this type, regardless of the reason, These are just some of the risks that are run on the web3.
Regarding the evolution of decentralized finance (DeFi) platforms and applications, Conti expressed his satisfaction by saying that "there is no greater compliment than to see that what we build works better than centralized finance."
The developer, despite acknowledging that many mistakes were made in the early development of many DeFi, thinks that these platforms may end up revealing uses for cryptocurrencies even more interesting than a payment method.
Conti took the opportunity to express his opinion on the evolution of Ethereum and was optimistic about the arrival of the new version of this network, without miners and whose emission and consensus will rest on proof of participation.