The total value locked (TVL) in second layer (L2) solutions on Ethereum has skyrocketed in the last month. This implies that methods for transacting with lower commissions in decentralized finance (DeFi) protocols and other applications are popularized and strengthened, which could make the use of these platforms convenient again for users who operate with low amounts.
From March 8, 2022 to April 5, the increase in this figure was 27%, with a record of USD 7,417 million on April 2.
Such a circumstance, according to The Defiant Seraphim Czecker, head of risk at Euler Finance, could create a virtuous circle: with more liquidity in decentralized exchanges and DeFi protocols, conditions would be created for the entry of more retail users.
"This could lead to an explosion in retail volume as DeFi becomes accessible to millions of new users."

Seraphim Czecker, head of risk at Euler Finance.
Although data published on the L2Beat site reflect an 8% decrease in TVL in recent days, the upward trend of the last month is evident in the graph below. In fact, maximum figures were reached and exceeded and also other very high ones, which had not been seen since January 2022when it reached USD 6,882 million in second layer solutions.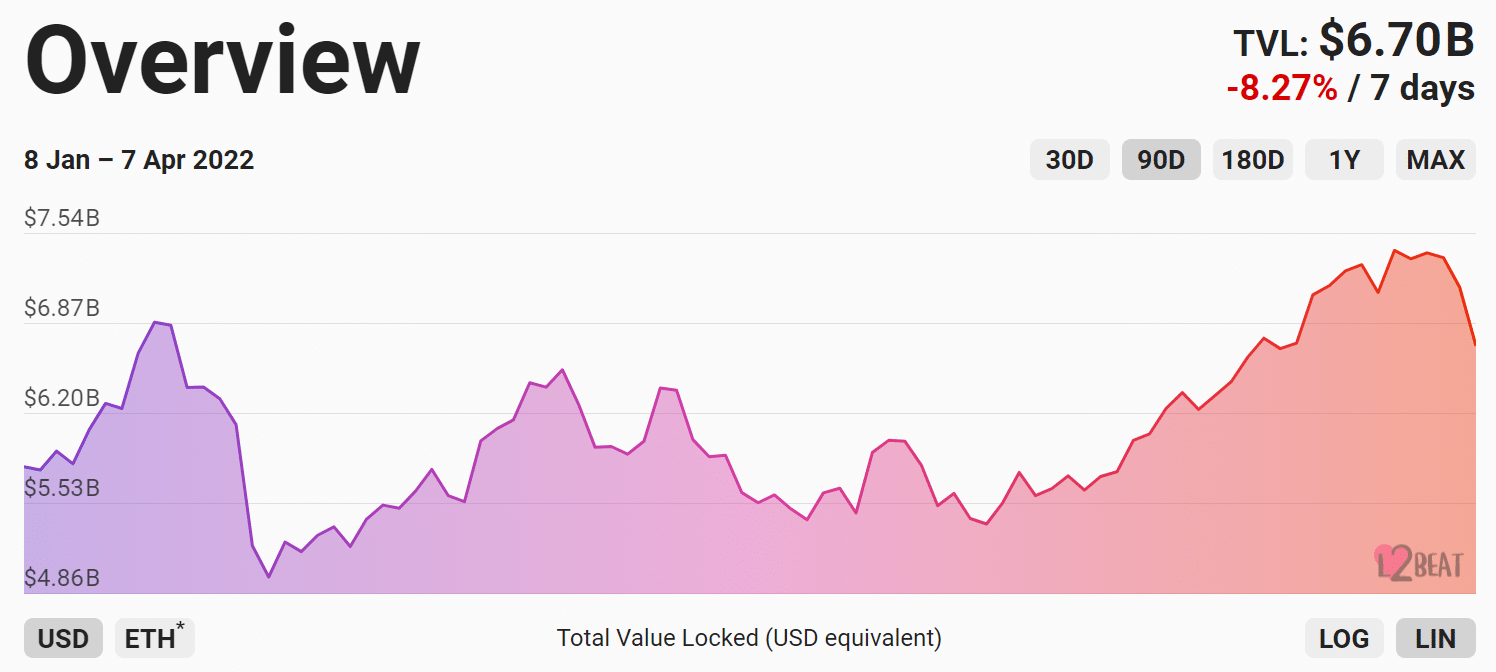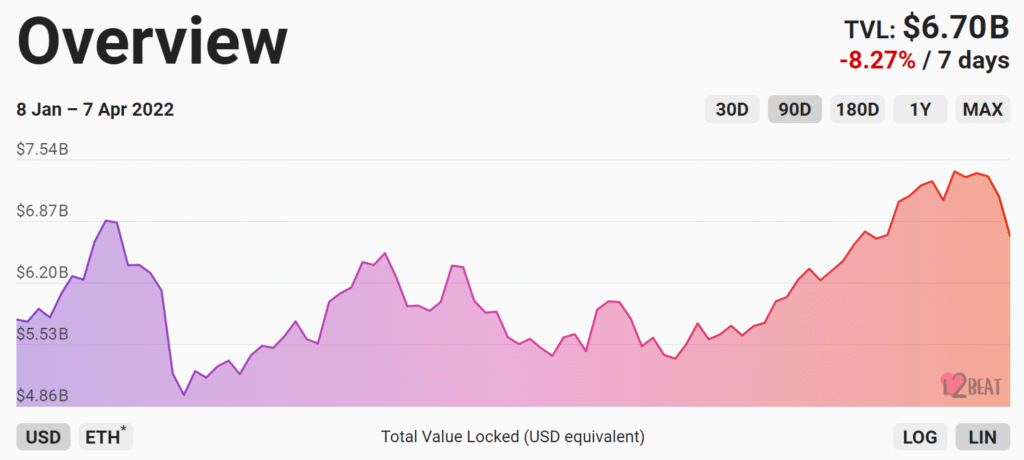 In addition to favoring liquidity, another implication of these figures is that they show a gradual growth in the popularity of second layer solutions, such as rollups. These are developments that allow several transactions to be "wrapped" and then recorded all together on the Ethereum network.
Arbitrum, Loopring and Optimism are some companies that develop this type of solution. To use them, you have to transfer funds from a wallet to these rollupsand it is thanks to these shipments that the TVL of each one is calculated.
With the rollupscalled second layer solutions because they do not work directly on the Ethereum mainnet but on a lower layer, commissions are significantly reduced. In recent times, fees have been a problem for average users of this blockchain, as CriptoNoticias has reported.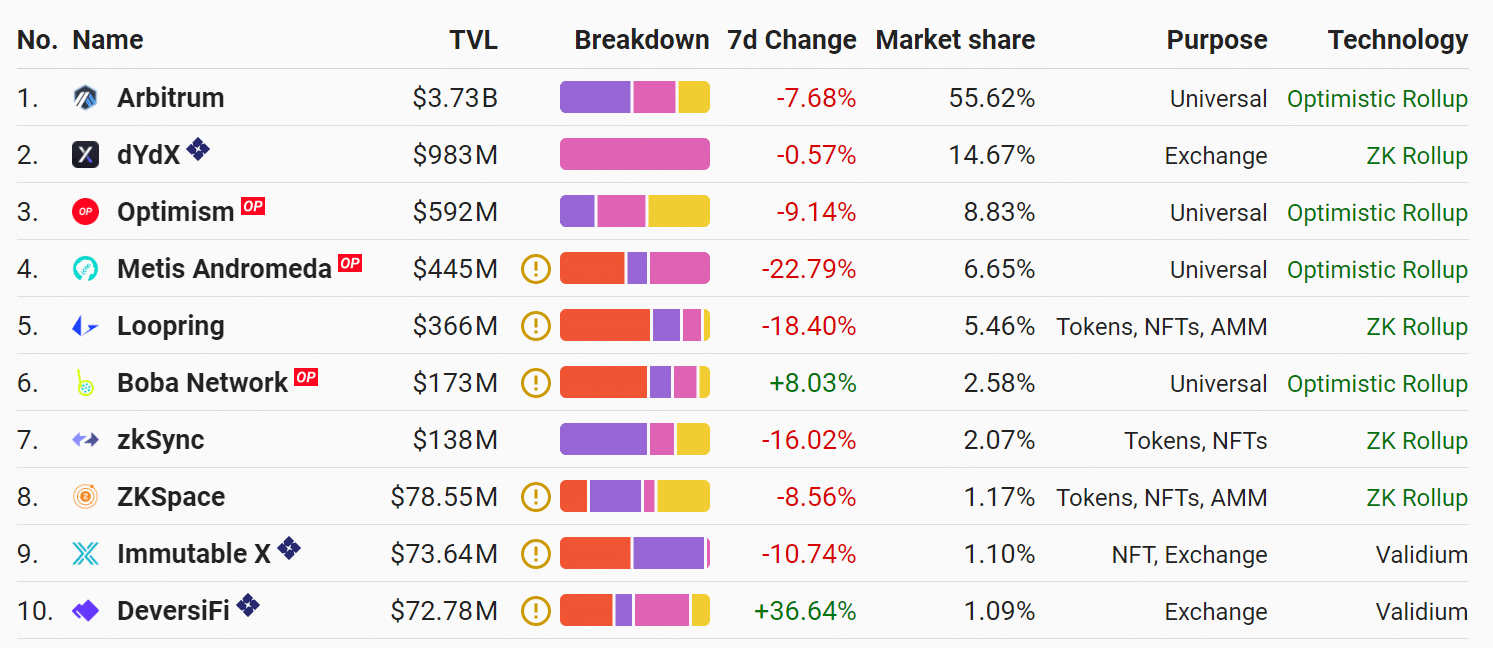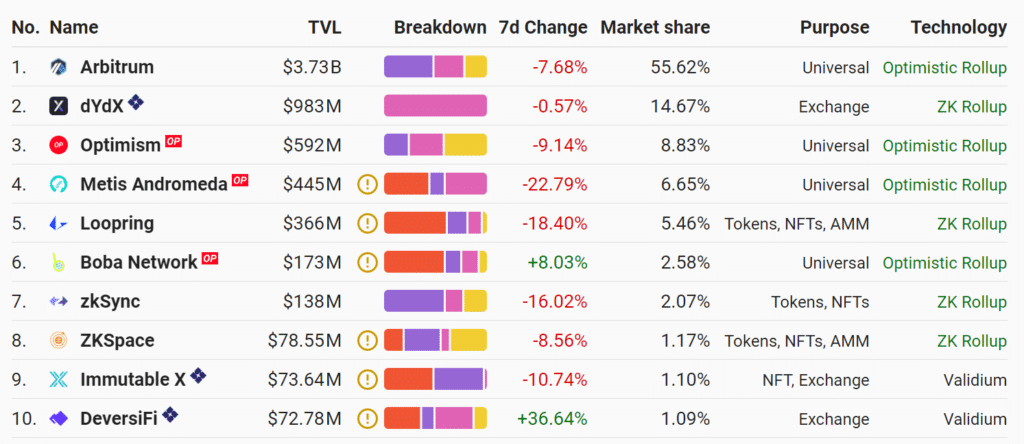 L2 Solutions Could Unlock Ethereum's Growth
To account for the importance of adopting these tools, it is necessary to review history. In 2020, DeFi had its "spring"a period in which these platforms became very popular and many users tried them.
The problem was that this growth led to Ethereum congestion which raised fees greatly. The situation got even worse with the non-fungible token (NFT) craze in 2021.
Without going any further, today the transactions are around a median of USD 8.7 each, according to data from bitinfocharts.com. This includes gas payments both for sending ether (ETH), the Ethereum cryptocurrency, and for signing smart contracts, which are more expensive.
With the rollups, this problem begins to be solved. These tools allow commissions to be significantly reduced, and in many cases place them below the dollar for transactions with ETH, according to data from l2fees.info.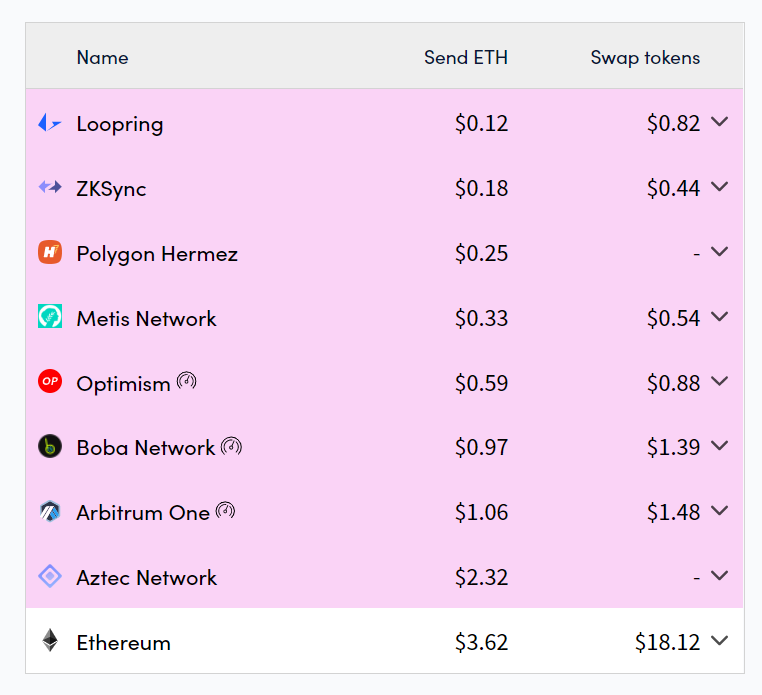 The downside of rollups
In addition to allowing operations with lower fees, rollups increase your speed on the Ethereum network. Nevertheless, They also have a major drawback, which is that they are not easy to use. For a common user without advanced knowledge, these solutions are still somewhat complicated to use. Use rollups of the optimistic type, for example, implies that the funds must remain blocked for a week before they can be withdrawn to the main network.
Faced with this barrier that complicates its use, it is likely that users of DeFi protocols prefer to continue using other blockchains, such as the BNB Smart Chain (ex Binance Smart Chain), Polygon or Solana.
These networks are more centralized than Ethereum, since they have a much smaller number of nodes, but they have the advantage that they are cheaper, faster and easier to use than rollups.
Ethereum's dominance in DeFi is not in dispute for now
As reported in this newspaper, at the moment, Ethereum remains the predominant network in the DeFi world. Although its percentage of prevalence in these protocols has decreased in recent months, it is still greater than 50%, as shown by the data from defillama.com.


This is largely due to Ethereum, of the networks specialized in smart contracts, is the most secure and decentralized. As if this were not enough, it is also the one that has been developing the longest and the one with the largest number of users.
However, it is not a matter of blocking the sun with your hand. These positive features are quite overshadowed when users face unreasonable fees to operate on it. Sometimes it can be worth more gas to get a trade done than the trade itself. Of course, this is something that needs to be fixed, and rollups have precisely that goal.
Thus, it could be said that the path to a more accessible Ethereum for retail users is paved by solutions such as rollups. It is clear, however, that these are still susceptible to many improvements, especially in terms of usability.