Today, it is important for a company to be present on social networks. Thanks to the'employee advocacy, or employee ambassador, a brand can increase its visibility. In addition, this approach has a positive impact on its notoriety and e-reputation.
> Download: The guide to inbound recruiting" align="middle"/>
What is employee advocacy?
By deploying an employee advocacy strategy, the company encourages its employees to communicate about the brand via their own professional and personal social networks. Employee advocacy is also known as the "employee ambassador program". Employees then become brand ambassadors on a daily basis.
Examples of employee advocacy
Adopting an employee advocacy strategy allows a company to increase the reach of its social content thanks to a resource present within its structure, that is to say its staff. Employees are then encouraged to communicate about the company by sharing content in order to promote the brand via social networks such as LinkedIn, Facebook, Twitter or Instagram.
As a general rule, the employee is an excellent spokesperson for the company, because he knows his activity and his values ​​well. In addition, he already talks about the brand and his work to his colleagues, friends or family and on social networks. It is important that all employees have a strong corporate culture.
The employee ambassador, meanwhile, establishes a communication and digital marketing strategy. Employees receive training and contribute to the company's digital reputation. For this, they share content on their social networks.
This employee advocacy approach can be used in B2B or B2C. It helps to develop a company's brand image on social media. It is also a way to promote your employer brand to candidates in the recruitment phase.
Finally, it introduces communication about its products or services and develops social selling, also called "social selling". Social selling refers to the use of social networks in the sales process.
Employee advocacy on Instagram
Starbucks has chosen to set up an employee advocacy program in which it gives voice to its employees. To allow them to express themselves centrally on social networks, she did not hesitate to create a special account, called "Starbucks Partners". Present on several platforms, he has just over 380,000 subscribers on Facebook and almost 140,000 on Instagram.
The company regularly issues detailed guidelines to its employees, guiding them on what they should and shouldn't do when posting on behalf of the company.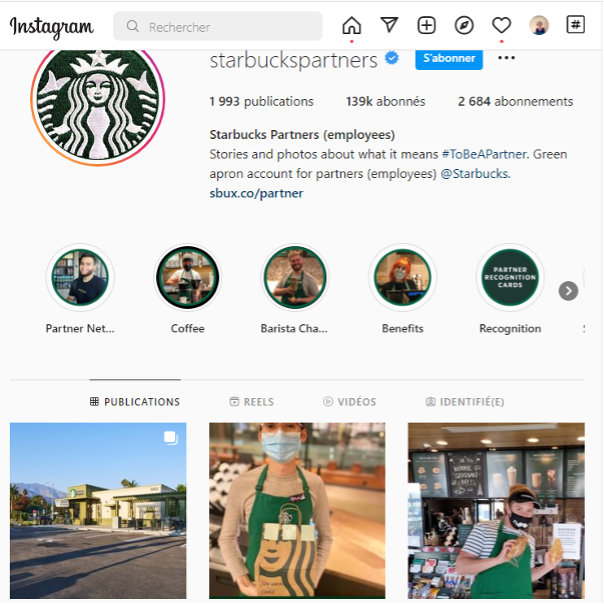 Employee advocacy on Twitter
Adobe quickly realized the impact its employees could have on brand performance when they spoke on social media. It is this reflection that led her to launch the "Social Shift Adobe" program. It is intended to train employees in the use of social media, teach them best practices for sharing and help them become brand ambassadors. Worldwide, more than 30% of the company's employees have been trained through this program.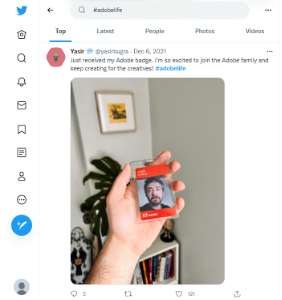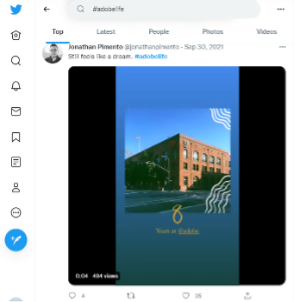 The benefits of employee advocacy
Credibility of the messages broadcast on social networks
Generally, the word of an employee is considered more reliable than that of his employer. Indeed, a large number of people consider that the content shared by a loved one is more credible than that conveyed by a brand. Employee advocacy is therefore a more convincing mode of communication than institutional communication.
Customers or prospects have more confidence when it is the employees who promote the brand rather than the company itself. The Nielsen study (Global Trust in Advertising) states that 83% of participants trust the opinions of a friend. They are not considered as advertising for the brand, but as authentic experiences.
Increase your audience and generate leads
Employees have a circle of influence that is expanding more and more with the advent of social networks. Employees often have more followers than the brand's official social networks. In addition, some algorithms, such as that of Facebook, favor content from personal profiles rather than business pages.
Employee advocacy increases the impact of brand publications. The content shared by employees will reach on average 6 times more people than a simple broadcast on the company's social networks. It is therefore important for brands to set up an employee ambassador program to improve their visibility on social networks and develop their notoriety. Content posted by an employee multiplies the rate of engagement and conversion of leads.
Increase productivity for salespeople
Consumers have the reflex, before a purchase, to do an online search, whether in B2B or B2C. They look at prices, customer reviews or product tests. This information is very easily accessible. There is then no need to contact the brand's sales representative. This is why it is important for a brand to have a strong presence on social networks. Its content strategy must also be optimized. However, some content has difficulty gaining the trust of Internet users because it is considered too advertising.
The employee advocacy program also brings a human dimension to the commercial relationship. Thanks to these shared publications, salespeople gain credibility and at the same time give credibility to the brand they represent. They interact with consumers looking for information via their personal account. It also creates an emotional connection between the brand and its prospects.
Develop your employer brand and facilitate the recruitment of qualified profiles
The employee advocacy strategy plays a role in the recruitment process. Most candidates seek information on the life of the company before applying. Its corporate culture, its values, its participation in Corporate Social Responsibility (CSR) and its management influence their choice. The content posted should give enough positive information about the brand. They must also be fair.
The employee advocacy program makes it possible to generate relevant content without false information. Companies can thus develop and strengthen their employer brand. We then speak of inbound recruiting.
Create a digital culture of engagement
The social climate within the company is improved by employee advocacy. Indeed, internally, employee ambassadors are more involved and feel valued. This generates more motivation and a feeling of belonging to a group.
Studies have shown that using social media in the office is positive for productivity and employee retention.
Decrease the costs of the Social Media strategy
Advertising on Facebook, Twitter and LinkedIn or running Google Ads ads is an important pillar of communication for many companies. However, this entails significant costs. However, these practices are not the only method to gain a place on social networks. Indeed, a brand can approach customers and prospects through the employee advocacy program. It's also a great way to reduce your advertising budget.
However, employees must be trained to manage social networks properly. After that, the brand will enjoy greater visibility at a lower cost. Although employee advocacy brings visibility for a low budget, you should not completely stop your Social Media strategy and paid referencing.
How to start an employee advocacy strategy?
Set goals
First of all, it is imperative to define the objectives of employee advocacy. It can be to develop the notoriety of the company, to stand out from the competition or to boost sales.
It is advisable to build a real editorial strategy including the most relevant content topics as well as a schedule of publications to be written.
Set guidelines
It is important to create precise instructions to support employees in their writing. This involves sharing the best practices to adopt on each of the social networks, defining the tone to be used as well as the hashtags to use and the different company accounts to identify.
The key is to create an environment of trust by guiding employees without limiting their authenticity.
Designate key interlocutors
One of the keys to the success of the program lies in the choice of employee ambassadors. It is essential to involve employees who are willing, motivated and, if possible, who already have a certain number of subscribers on social networks. Specific training can be considered if employees are unfamiliar with the use of digital.
Accompany the ambassadors throughout the program
The results of an employee advocacy strategy are generally measured over the long term. We must therefore find ways to encourage and support employees over time.
This can go through a system of rewards such as discounts on brand products or the allocation of gift certificates.
It is also essential to communicate regularly about the existence of the program, through the internal newsletter or by displaying the publications that have received the most likes in the company restaurant, for example.
Make a memorable launch
It is essential that all employees are aware of the importance of the success of the program for the company. It is for this reason that we must think big for its launch.
On this occasion, it is appropriate to recall the objectives of the employee advocacy strategy, to redefine its guidelines and to answer the questions, asked in particular by those most reluctant to the project.
Track performance indicators
To monitor the effectiveness of the employee advocacy program, performance indicators must be analyzed regularly.
These include, among others:
The number of leads generated.
Conversion rate.
The number of qualified prospects.
The volume of sales achieved.
The number of new subscribers.
To go further, download this free guide to inbound recruiting and transform your recruiting process to attract, engage and recruit the best talent at scale thanks to the inbound methodology.