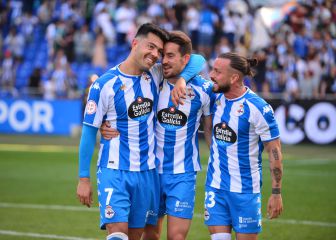 What will be the keys to the match?
In a playoff game of this caliber, there are no favorites. It is true that Depor have all the conditions in their favor to overcome the tie, but it is also true that Linares is the fittest team in the category.
There will be moments of great dominance by Depor, who will press the Linares defense up high and exert high pressure on the central defenders' ball output. Linares is a team that likes to play touch, taking out the ball played and looking for spaces in defense, especially on the wings with very long sides. The game in midfield is going to be very close. Linares will bet on a defensive trivote to contain Depor's three attackers. The Coruñeses almost always bet on 4-3-3 with Alex Bergantiños as a defensive pivot giving balance to two midfielders who play up front, sometimes switching to 4-2-3-1. Linares is a team capable of changing plans during the match. We have seen him play most of the season with a 4-3-3, also changing to 4-4-2 and able to play with 5-3-2 in the most complicated phases of the match.
They are two author teams, very well worked by Borja Jiménez and Alberto González, capable of adapting to any situation that the match requires without losing the mark. It will undoubtedly be a great game, especially tactical, in which the one who best knows how to handle pressure, both on the pitch and emotionally, will win.
[