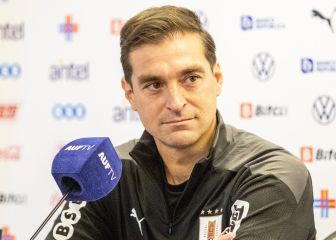 -He came to take charge of a depressed, injured Uruguay, and they managed to turn it around to enter the final phase of the World Cup. How did you come to change that inertia?
-We had a complex situation, we were in seventh position but we understood that the team could be in the World Cup. We had a good final tie, the credit goes to the players, we gave them the tools and made them feel comfortable. We try to give peace of mind and security.
-When you arrive after such a long cycle, what steps do you have to take in order to give an impact to such a situation?
-Be natural. I am a father, husband and coach 24 hours a day. I can't be someone else. When this is transmitted to the other, he will receive it because he knows that you are not lying to him, he sees that it is you who is speaking to him. He sees that it comes from your heart. The impact was very natural. I told them the things I felt about them and I didn't need another impact to forge anything, I was just myself. I told them what I wanted from them and from the team.
-After the urgencies of the classification, now you are concerned with how you want your team to play. What will be the hallmark of your team?
-That is what concerns us now, because in the other two windows he only trained to win the games that were due. Now we have two dates to try to pay less attention to the rival we have to face and more to what we want to do. We want to be proactive. We have been, playing those four games well, but we want to improve and work on phases of the game that we are going to find in the World Cup with the characteristics of the teams that we are going to face. We want to see our response to it to see where we need to improve.
Pellistri's surprise: "I told him what I valued him, at 20 years old he became the starter and played as he played…"
-Thinking especially about the European soccer player, almost the entire Uruguayan squad plays in Europe, how do you prepare for a World Cup in November and what will be the differences compared to the traditional World Cups on other dates?
-On a personal level, for the dates, the players are going to reach a great physical and mental level. They will have their vacations, their preseason and three months of competition. They will arrive at an optimal time. But for the coaches it will be different because the usual thing is to have them available between 25 and 30 days before to work and, in this case, it will be about seven days. The selections with more previous process are perhaps going to have a little more advantage, but that is what it touches. You have to face it.
-Will the physical intensity of the tournament be greater?
The climate in Qatar at that time and at those night times, I who have experience in the Club World Cup, is very pleasant to compete. Then the intensity will depend on the proposals of the teams, but surely the pace will be very high.
Araújo as wild card: "His understanding of the game gives you enormous options, he is versatile"
-He took charge and one of the things that caught our attention, especially looking from Spain, is that he gave a lot of prominence to a young boy like Pellistri, who had not been playing minutes at his club. Why such quick faith in him? What does he need to shine?
-I believe a lot in the characteristics of soccer players and I also believe a lot in my soccer players. I trust a lot in the Uruguayan footballer and in what he can do. I thought that the characteristics that Pellistri has could help us a lot with the game that we want to implement. From there, I told him what I wanted from him, what I did value him and then the one who gave up was him. He came here when he was 20 years old, he put on the starting shirt of the senior team and he played the way he played… That speaks much better about him than about me.
-Araújo as a right back has been another of his bets. We have also seen it in Barcelona with Xavi once. What does Ronald give you there?
-It gives us a lot of versatility. He can play all four defensive positions. Central right, left and on the two sides. As a lefty he has managed to do it with Barcelona in one game and he did not clash, he more than fulfilled it. That speaks to his ability to understand the game. His soccer and physical virtues are more than outstanding, but his growth stands out above him. He is a boy who year after year goes further. That detail tells you how is his ability to understand the game. He gives you enormous possibilities and we are very happy. Either as a winger or a central defender, because he has also done it with us in a line of three at the end of the games.
Take Professor Ortega: "He will transmit his feeling to Atlético; the best for everyone will be chosen"
-Polyfunctionality is the label that also accompanies Fede Valverde. What is your ideal position in the field? Where do you get the most out of all your skills?
-I don't know the position in the field that he can best play, he plays well in all of them. What I am convinced of is that the game has to go through it. He is a player who spreads football every time he touches the ball, it seems to me that wherever he plays, if the ball passes through him, surely his team is better. In our case, we try to make it happen because he doesn't need to have the ball at his feet all the time to make us play well. It is enough for him with a movement, an uncheck, playing first or with filtered passes. All the time it helps us to make the game better.
-In Madrid, Ancelotti asked him for a goal as well.
-With us he has had the chance to score and has had chances. He agrees with his coach at Madrid. He has that ability.
-Giménez once again had a season with some physical problem and recently said that he has been trying things, but that he thinks that everything comes from his head. One hundred percent he is one of the best in the world. Have you talked to him about that psychological factor you're talking about?
-I can speak from the experience of living and chatting with him. I was with him there in Madrid. He is a fantastic boy, a great player and we trust him a lot. What he may feel at some point, we are not concerned. We know that he is very important for the national team and he is going to help us.
Suárez and his destiny: "The Uruguayan footballer always gives priority to the national team to choose his future"
-Luis Suárez leaves Atlético and has between eyebrows to continue at the highest level to get to Qatar in the best way. What has he transmitted to you in the conversation they have had?
-I am sure that he will arrive at the World Cup in the best conditions, I know his professionalism, and the choice he makes of his next club will be a good one. The Uruguayan soccer player, if he has a virtue, is that one of his priorities is the national team and when he makes a decision he thinks about his career, he thinks about his family and he also thinks about the national team. I am convinced that for him and his teammates the national team is a priority and he will make the best decision also thinking about it.
Cavani is in a similar situation. Were you surprised that he played so little for United?
It's not about being surprised. It's what happened to him. He has had an injury that cut short the performance. It is normal for footballers to have a season with some impasse because you have an injury, but I repeat the same as with Luis Suárez. I am confident that they will make the best choice. But I always watch the news with me. Because sometimes in the clubs they go through a moment in which they don't play much or they aren't having a great performance. I can talk about what happens when I have them and when Cavani came he had a brutal performance. And Suárez, in four games scored three goals. That is what I can talk about and what I feel. I am satisfied with them.
The Uruguayan player: "We are a small country between two giants and no ancestor ever told us that we couldn't win"
-Professor Ortega has already helped in recent dates to get the place for the World Cup. He would like to be in Qatar and that the AUF is going to try. A delegation from the AUF came to Madrid. Is there already an official request to Atlético?
-Not that I know of. What I know is that when LaLiga was over, the teacher asked to chat with Atlético to convey his feelings. That's all I know.
-Would it upset your plans a lot if the Profe couldn't be there?
-What I have to do in the first place is to respect what the Profe chooses to do and, later, also respect Atlético, for whom I have a very special affection, for his fans, for Miguel Ángel Gil… What I have to do is be calm and wait for events to unfold normally. What is decided is the best for everyone.
-Darwin had a season in which many great Europeans put their eyes on him. Among them there is talk of Atlético, a club that you know well. Would it fit Simeone's Atlético well?
-It is hard for me to talk about this situation, because we also owe Benfica respect. If Darwin is having a great performance today it is thanks to Benfica. We owe him respect. He would speak ill of me if I said that he has to change teams or that he would do well elsewhere. We are very happy with his progression and the projection that Benfica has given him.
-Having the offensive cast of Uruguay with people like Darwin, Cavani, Suárez, Maxi and even Stuani, how do you mix them in a tournament so that in the end none of them feel left out?
-There are still six months to go before we know who is going to play the first World Cup match, it's a long time. I follow everyone, inside and outside Uruguay. We do a very important scouting. So those who are and have to participate in the World Cup will be the best for that moment. All those he said are national team players and the national team is the priority. It is very simple. There is a common goal and they know my task. First the list and then the eleven who are going to play. We take it naturally and it is very easy to manage this type of footballer. Because I choose eleven and then the one who stays out feels like the number one fan of the team. There are no drawbacks. We feel very comfortable from them whenever we have to make a decision like that because of how they respond. It's not stressful at all for me, on the contrary. Super normal and natural. I can't act. I am frontal, I tell them what I think and I put together the team as I think it has to be. The player understands it clearly.
-You have said that you are working so that Uruguay becomes champion. What are the strengths?
-What happens is that if you want to win, aspire to the maximum, you have to prepare. If you want to achieve it and don't prepare yourself, you will never achieve it. Then it may be that we don't get it, but we gave everything for it. You prepare on a football and mental level. And if you ask me one quality of the Uruguayan soccer player, it is that we are competitive. We compete well because we are a tiny country that grew up between two powers, two monsters like Argentina and Brazil, and nobody ever told us that we couldn't win. Neither my grandfather nor the grandparents of the other footballers, nor our parents, nor the uncles, nor the grandmothers, nor the aunts, nor the mothers… On the contrary, they told us that we could do it and that encouraged us to compete. We do not believe we are better than anyone and we do not feel inferior to anyone. That is the greatest strength that we have and we defend it.
-South Korea, Portugal and Ghana will be your first three rivals in Qatar.
-It is a very even group and it is not a politically correct statement, because we can win all three games and we can lose all three. Any of the four can pass.
-It can be an appointment of changes. Cristiano and Messi, among others, are already finishing their careers. Will it be a world of generational relays?
-When I look at my footballers I don't look at tomorrow, I look at the performance they have today. The most important thing is the moment, I don't look at ages, neither up nor down. Look, I have directed the Rabbit Pérez, with forty and many and I have put boys with 16 or 17 years to debut in the First Division. I don't see beyond.
-The Champions League final is played today with Valverde in it. How do you analyze it?
-I will see it as a spectator, I will sit down to see it with the illusion of seeing a great match.
[