In the talk known as '19:09 – the black and yellow talk', the CEO of Dortmund, Hans-Joachim Watzkehas given a string of headlines about the future of the club and has finally confirmed that, indeed, Haaland has a release clausealthough he has not confirmed how much it is: "First of all, we have to know that we need a new Erling Haaland. In the end, the truth is that we gave him a termination clause; otherwise he would have gone to Manchester United. You have a decision to make, it will come eventually. The important thing is that all this will continue. If Borussia Dortmund can do one thing, it's find the next. A team always wins more than a player."
The subject of the clause is thorny. Dortmund has insisted on denying the major for years, perhaps in order not to give a public image of weakness towards its top star. Likewise, it was reaffirmed that there was no such contract in December: "More than 90 percent of our contracts with the players do not have a termination clause. I cannot confirm it as such." Those words from Watzke made the world of football doubt, which was already wondering if, indeed, he would have to pay the German team more than three figures to let the Norwegian giant go.
Of course, in the talk this Friday, he has not confirmed that Haaland has a clause of 75 million, as has been speculated so many times. Simply that this clause exists, without specifying its quantity. However, for a long time the forward's suitors have not been too concerned about the demands of Dortmund, but about other aspects such as his salary, the signing bonus, the commission of his father or his representative… A sum that could reach 200 million euros, although already with the public guarantee that its current entity will not cause problems.
Also, incidentally, he has answered a question that had been in the air for years: why did Haaland choose Dortmund? In his day, he had offers from teams, a priori, with greater potential and more capacity to win titles. Now, Watzke has revealed that the Norwegian was going to sign for Manchester United and that it was the clause offered by the club that made him rethink the operation, forge professionalism in Germany and later make the leap to one of the five best teams on the planet.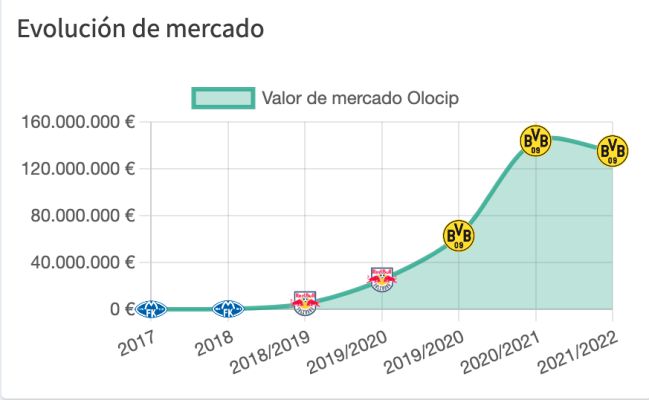 Watzke reveals possible signings
One of the names called to replace Haaland is that of Karim Adeyemi. Watzke has practically confirmed that he will arrive at Signal Iduna Park. The operation seems a fact and a total agreement with Salzburg has even been published. However, that a president speaks with this frankness is an unequivocal sign. In this case, it does not reveal an agreement, but a clear rapprochement of the parties: "If it came, we would try to make it happen without a termination clause. But I will not give a report on the water level. We are not under any pressure. I think the player has more or less conveyed the feeling that he wants to join BVB. We have to work it out somehow".
It remains to be seen if that clause is finally signed. If you do, you will always have the big guys on the prowl. If not, you can mark a time in the city. His arrival will not be the only one. Nico Schlotterbeck also soundswho had in parallel an offer from Bayern Munich: "He has risen like a rocket in recent months, he has a good demeanor and, above all, self-confidence. It's no secret that we like".
[