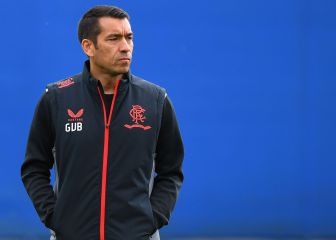 How is your team?
The mood is very good. We are ready to play a great game.
Are you nervous about playing this final?
I am very proud to reach the final with Rangers, it would be the second continental title for this club. We respect the opponent but the finals are good when you win them, because when you lose you don't like them very much. These games are different in many things, such as the attention of the Press. But we have to concentrate on the game, not on anything else. There is a lot of pressure because you have the chance to win a big title.
How do you feel about the heat in Seville?
The weather is very different in Glasgow, of course, it is much hotter. It was good to travel a day earlier (they arrived on Monday night) because we can adapt to the heat in Seville, it won't affect us. We'll drink a lot and we'll be safe.
Will Kamara be able to play?
Kamara can play. He trained with the team yesterday, and individually before. As he is with us, he is ready. I'm very happy with the games he's playing, I know it's good for the Finns that a player from there plays a game as big as this one.
It has already eliminated Dortmund and Leipzig, two other German teams. How is Eintracht similar?
The three German teams I have faced are very similar and organized. They have different players but they are dangerous in transitions. Eintracht eliminated Barcelona and is here because it deserves it. We are two clubs with a long history and many fans. It will be very nice.
What do you expect from Aaron Ramsey, a player with a lot of experience?
Aaron is an important player for us. He arrived in January, he had not played much at Juventus. He has had some problems with injuries but I am happy with his performances. He will be physically fit for tomorrow's match, in this type of match you need experienced players.
Have you rehearsed penalties?
Some players wanted to practice them, others didn't. But we are prepared for any scenario, extra time or penalties. And we've handled all those situations.
The Spanish Police are concerned about the fans. Do you want to send a message?
I don't think it's a number issue, 20 people can come and there are problems and thousands come and nothing happens, just enjoy this final. This match is for all of them, so that they have a good time without any altercations. It's a match, some will be happy and others sad, but you have to respect everyone in the city.
[