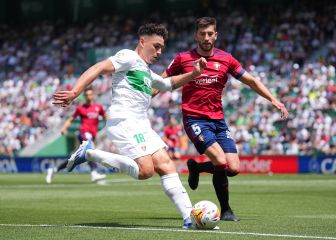 Pere Milla ties the permanence
Distribution of points with different sensations for the two teams. It probably tastes better to Elche. The Alicante team adds its third day without losing and, with one more point, it is virtually saved. He is not yet a mathematician, but Francisco's cast would have to suffer a cataclysm to see his presence in First Division next year in danger.
Bittersweet flavor that Osasuna has left. The rojillos arrived at Martínez Valero with their homework done for many days, but they aspired to something more. The Conference League, with this puncture, is practically impossible to reach. Even so, the one from Arrasate has been a huge season.
He converted a penalty against Budimir to put the Navarrans ahead and break a record: the Croat beats 'Chengue' Morales' record and becomes the only Osasuna footballer who has managed to score in six consecutive games. Pere Milla, with a header after Gumbau's service, tied the game at seven from the end.
[