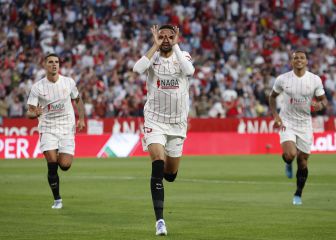 Of the 24 goals to sign only four. Not being the best campaign from Youssef En-Nesyri, but the Moroccan wants to give a radical twist to that reality and took an important step last Friday by scoring a goal that breaks his period of seven months without scoring. The injuries did not respect him. He also did not have all the opportunities he would have wanted. But your version also walked away from the one from a year ago that catapulted him up to the sky. Lopetegui He wants that efficiency back, the one they manufactured between the two in an alliance that also found many brakes at the beginning before that scoring takeoff that extinguished any doubt. Now En-Nesyri faces the closure of the League with the desire to give hope to Nervión.
The Seville received last summer top proposals to the 30 million euros for En-Nesyri to go to the Premier League. But it was Lopetegui's number one trick in his attack. The man who had been able to fit perfectly into his game system and brilliantly ally himself with the other attackers on the team. Their physical problems diminished his ability to be decisive and when he returned it was not easy to get a preferential seat again. the moroccan pretend to play more and knows that the competition is growing. Rafa Mir shows a certain efficiency in correspondence with his minutes and Martial also wants a place in an eleven full of alternatives.
Summer comes with some unknowns about the future of all attackers from Seville. En-Nesyri is also in the trigger after an irregular course and multiply the performance concerns that I can have again in Nervión. Nor are there too many certainties regarding the offers that can arrive the Seville club for the battering ram in a market with too many conditioning factors. for now, En-Nesyri only looks at the present. He wants to paint it under the premise of emulating his incisive version of 2021. The one that can give him a leading ticket in Seville from 2022-2023.
[