The Bitcoin mining industry seems to be saying goodbye to some of the specialized equipment that has been used the most historically for this activity: the Antminer S9 and S7 models, manufactured by the pioneering company Bitmain. This is possibly due to its low profitability in the context of the bitcoin (BTC) bear market.
according to a graph taken from the firm CoinMetrics, the Antminer S9 and S7 teams contribute less than 2% of the processing power or hashrate connected to the Bitcoin network.
Meanwhile, more than 95% of the hashrate that has been connected in the last 30 days is the responsibility of state-of-the-art miners, which are more powerful and consume less electricity.
As we reported yesterday in CriptoNoticias, S9 miners are no longer getting enough BTC to sustain their operations, according to specialized firms.
At a modest price of 5 US cents per kilowatt hour (KW/h), an Antminer S9 would have a negative return of 19 cents per daymining just 5,600 satoshis (SAT) or 0.00005600 BTC, according to the Braiins mining equipment profitability calculator.
However, when using a higher price, such as the 12 cents per KW/h that electricity cost in the state of Texas, USA, in February 2022, according to specialized portalsthe outlook worsens: an Antminer S9 would be losing $2.15 daily.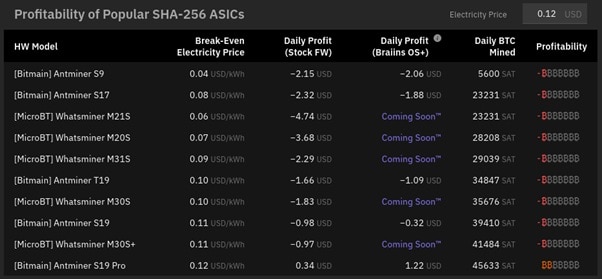 Likewise, as the image above indicates, various newer mining equipment such as The Whatsminer M30S also have a slight deficit in their productivity. However, its power and low power consumption make up for its long-term performance and profitability.
In fact, it could be a priority for miners to run them at full throttle and accumulate as much BTC as possible now that their purchase price is really low.
Bitcoin hashrate retreats without losing uptrend
The drop in the price of bitcoin may have affected some miners who have had to disconnect their equipment to reduce consumption and spending on electricity. This decrease is not entirely attributable to the disconnection of the Antminer S9 or lower-end equipment, but they are not excluded either.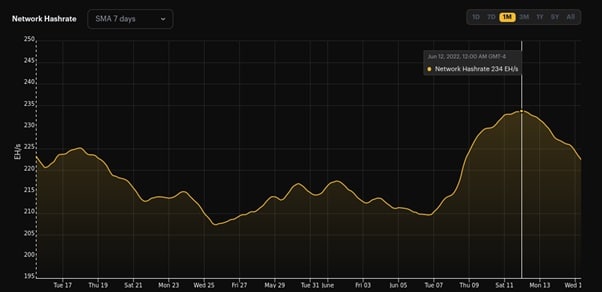 According to Hasprice Index Firm, the processing power of Bitcoin stands at 223 exahashes per second (EH/s), with the highest peak in June being 234 EH/s. However, in a perspective greater than the 1-month window, the trend remains bullish as it has been historically.