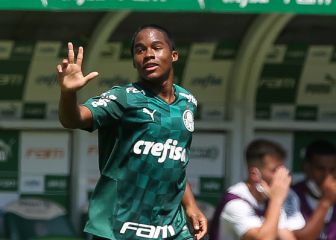 Endrick, the last great Brazilian jewel, already has a price for the European market. Or so it will be as soon as the agreement to renew his contract with Palmeiras is made official.The striker will sign a new contract until 2025, when he will be 19 years old, and with a clause of 60 million eurosas Fabrizio Romano has advanced.
Endrick, who will be 16 in July, has long been in the sights of several great Europeans, including Real Madrid and Barcelona. That is precisely one of the reasons for the improvement of the player's contract, which they fear losing for a much lower amount. His current clause is 18 milliona figure that, judging by the interest it has aroused and the number of potential buyers, was well below the real market price.
The footballer toured Europe during the month of February, on a trip with stops at both the Camp Nou and the Santiago Bernabéu, although they were not the only greats he visited. Although he assures that his future leaves it in the hands of his staff, we must not forget the detail that his father is a Madridistaas he was in charge of demonstrating during his stay in Madrid.
In any case, as published by AS at the time, Madrid does not consider paying a sum greater than 45 million euros, the amount he paid to enlist Vinicius. Endrick will turn 16 on July 21 and at the moment he has a termination clause in Palmeiras of 18 million, but the Brazilian club is already working on raising this amount to 100. Madrid paid 30 million for Reinier, 40 for Rodrygo and 45 for Vinicius… And they do not plan to exceed that symbolic figure in a supposed future operation. The very young talent, for now, tries "not to think" and "keep his feet on the ground", as he told TNT.
[