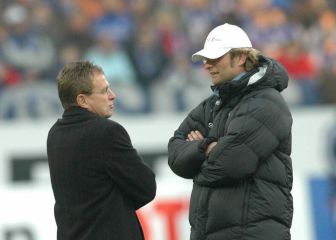 Ralf Rangnick studied English and Physical Education at the University of Stuttgart. He was going to be a teacher. The 1970s were ending and Rangnick was playing for the Stuttgart subsidiary. In class he met athletes from different disciplines, learning about their routines, their training and their physical preparation. He noticed Arrigo Sacchi's AC Milan. And at Valeriy Lobanovskyi's Dinamo kyiv. Years passed, also Ralf's opportunity to be a footballer. He hung up his boots and sat down on the bench. He would be a coach.
He took the reins of Ulm 1846, with whom he rose to the German second division. They settled on the silver category before going a step further. In the year 2000, the Baden-Württemberg team was in the top flight of their country. For the first time in its history. Rangnick had been ignored by the heavyweights on the German bench. He now faced them, though he didn't always do it successfully. Returned Hannover 96 to the Bundesliga before joining Schalke 04. The current Manchester United coach left both clubs due to problems with the directives
Ralf returned to modest football. He took charge of a team from a town of just over 3,200 inhabitants. A humble club, in principle, but ambitious and with the financial backing of billionaire Dietmar Hopp. Rangnick took Hoffenheim to the Bundesliga, but the sale of Luiz Gustavo to Bayern Munich upset him. He felt that his bosses were content with what they had achieved. He wanted more. And he left. Another guy with bills knocked on his door. Dietrich Mateschitz saw what Ralf had achieved at Hoffenheim and doubled down. More promotions, but with several football clubs. Those of the Red Bull factory. In 2012 he became the sports director of Salzburg and Leipzig, although he left the Austrians in two stages, both to train the Germans, who had risen from the fourth to the second category.. He took them to the Bundesliga in the 2015/16 campaign and returned to his office. He repeated in 2018/19 when the East German team needed him again as they still couldn't hire Julian Nagelsmann. And he answered again, putting Leipzig in the first DFB Pokal final in their history.
His masterpiece. His ideas, on and off the field, led to a list of clubs to which the New York and Bragantino teams would be added. There, the Professor taught. On Tuesday the most outstanding student of him will be measured. Jürgen Klopp helped spread the philosophy of gegenpressen. Hard, collective, intense work, a compact defense and quick transitions. Occupy spaces to recover the ball as close to the opposite goal. And do it, to create an occasion as quickly as possible. This is how he became known at Borussia Dortmund. This has made Anfield celebrate the biggest titles again.
[