Key facts:
Ethereum 2.0 will completely remove GPU mining and replace it with staking.

GPU prices have fallen by as much as 50%, and could continue to drop.
In crypto winter not everyone suffers. The fall in the prices of the cryptocurrency market, together with the imminent arrival of Ethereum 2.0 and the end of mining, means that gamers can access video cards (GPU) without spending so much money.
For example, the RTX 3080 Ti 12GB —the iconic GPU of the Nvidia company— so far this year had a significant drop in price. In January 2022 its price was around USD 2,000, in any online store, while it is currently trading above $950, very close to its launch price of $899.
Other graphics cards with more affordable prices such as the RTX 3060 Ti, which was trading above USD 1,000, is currently averaging USD 450. Its launch price was USD 399. Both the RTX 3080 ti and the 3060 ti are considered the best GPUs for mining Ethereum.
It should be noted that while these are two fairly specific examples, there is currently a general drop in all GPU prices on the market used for Ethereum mining.
This drop is quite influenced by the possible arrival of Ethereum 2.0 this year. this update makes miners on this network stop buying new mining equipmentdue to the reduction in profitability.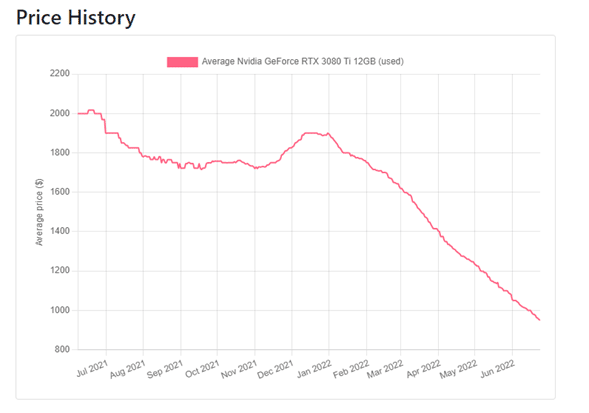 It is worth keeping in mind that ether (ETH) is the most profitable cryptocurrency to mine today, according to Whattomine, followed by Ethereum Classic, which already shows "seductive ideas" to attract Ethereum miners as reported by CriptoNoticias. Once Ethereum 2.0 arrives, profitability in other cryptocurrencies may be further reduced, due to the hashrate migration that Ethereum will have.
Secondary Market May Lower GPU Prices Even Further
Although the prices shown are for new equipment, secondary used card market could cause GPUs to drop even further.
A recent example occurred in China, a country that banned cryptocurrency mining. In the popular (informal) markets, vendors have been seen displaying their products on the street, with offers that reach, in the case of the 3,080 ti, up to USD 500.
While this type of behavior may be due to the current ban by the Chinese market, the arrival of Ethereum 2.0 may prompt the replication of these images within the Spanish-speaking markets.