Key facts:
Network activity is still low and that decreases the ETH burn per block.

Despite this, the emission without the Merge would have been much higher.
With the transition to Ethereum 2.0 from the Merge, Ethereum was expected to become a deflationary network. However, this objective has not yet been achieved, although the emission did decrease considerably.
From the Merge, which took place in the early hours of Thursday, September 15, the issuance of ethers (ETH) has a positive balance of 3,705 units, as reflected on the site ultrasound.money. This rate would imply an annual issuance of 603,000 ETH, or a percentage growth of 0.2% of the current circulation of the cryptocurrency.
However, it should be noted that this number varies almost permanently. It is because the ETH burning occurs from the activity that exists in the network. The more transactions there are in Ethereum, the more ETH will be burned.
The new economic model of Ethereum is largely based on the fact that if these eliminated units exceed the emission of the network (variable according to the number of validators), the goal of deflation will be reached.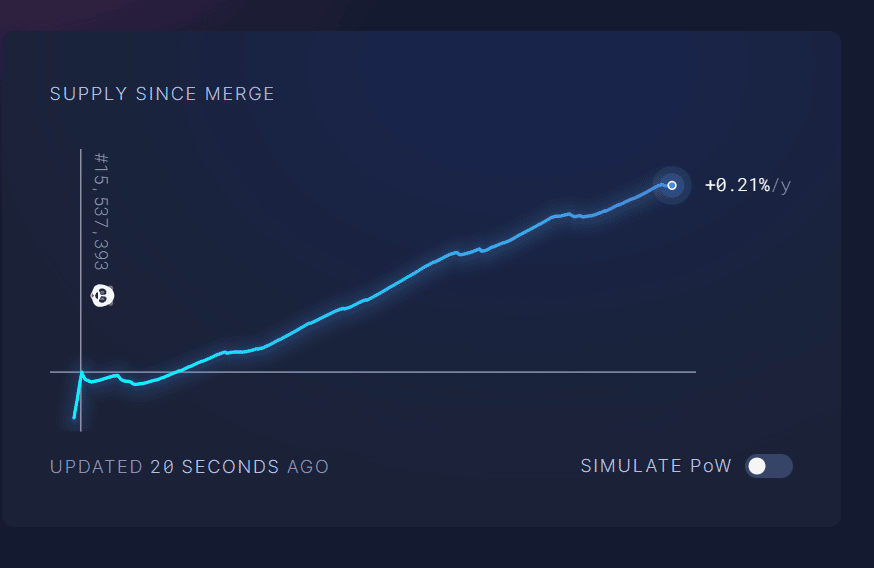 What would have happened without the Merge?
Although Ethereum has not become deflationary yet, it is notable that the issuance of its cryptocurrency dropped by a significant percentage. The 3,705 ETH issued in the last 5 days would be 67,129 ETH if the Merge had not occurred.
The difference is that Ethereum no longer emits as much ETH per block to pay miners, now replaced by validators when working with proof of stake (Proof-of-Stake, staking or PoS). Therefore, by burning 70% of the ETH that users pay in transaction fees (which are already existing ETH), the emission is gradually reduced.