Days ago, Ethereum rollup Optimism released its first air drop with the goal of becoming a decentralized autonomous organization (DAO). Such was the interest that this event attracted, that this scalability solution achieved an all-time high in daily transactions.
The air drop, reported by CriptoNoticias, was considered "turbulent" due to an obvious lack of control on the part of users. These began claiming the tokens before it was officially announced, to which developers had their hands tied to avoid disruption.
Within this confusion, on June 1, the Optimism network reached a peak of more than 480 thousand transactions, doubling the previous maximum achieved in mid-May about 215 thousand. The average number of daily transactions in this rollup is around 30 thousand.
The number of transactions handled on Optimism also had a direct impact on the total commissions paid by users in the last week. According to the portal CryptoFees, Optimism currently records double the commissions paid in one day, USD 180 thousand, over its direct competitor, Arbitrum with USD 95 thousand.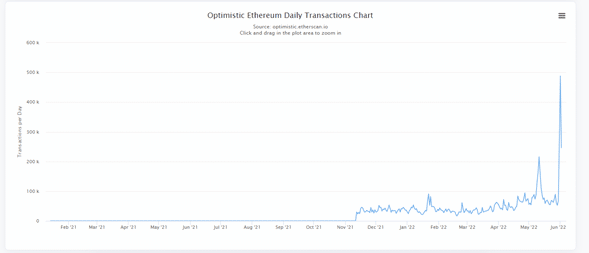 After the peak reached in Optimism's daily transactions, the interest in the network does not seem to have ceased, since as of June 3, more than 240 thousand transactions are still registered.
Optimism is a rollup or second layer solution for Ethereum, which increases scalability and the number of possible transactions per second. In addition, it allows you to operate with lower commissions than in the main network. Currently, Optimism fees are around $0.25, while on the Ethereum network they are around $2.
Ethereum's own co-creator, Vitalik Buterin, has been privy to the development of the Optimism DAO. He applauded the initiative and drew attention to the novel way in which they will distribute their governance, which was detailed by CriptoNoticias.
More airdrops for Optimism
An airdrop is basically an instrument that allows projects to distribute their tokens among those who meet certain conditions. In the case of Optimism, the governance tokens of his DAO were distributed among the early adopters or first users of the network.
Airdrops also serve as a marketing strategy to attract more users. In the case of Optimism, by the end of April when the airdrop was announced, the number of active addresses doubled, according to the graphs, going from 360 thousand to more than 800 thousand addresses in a single day.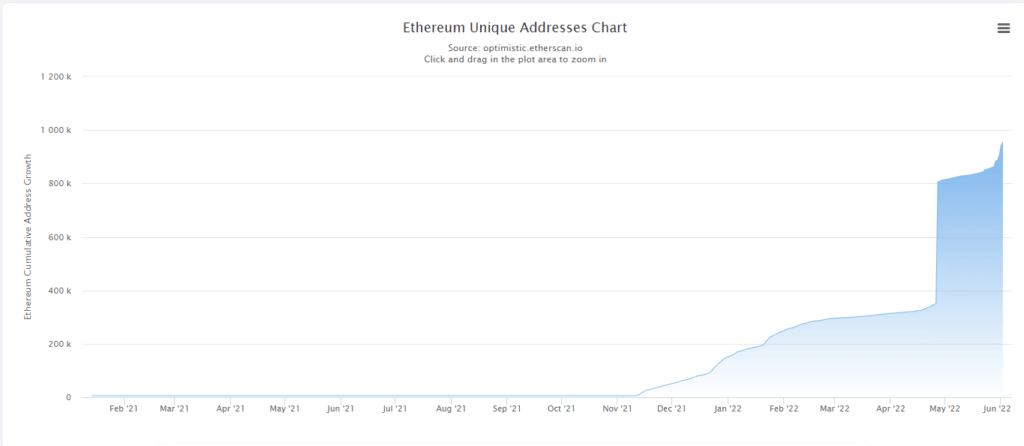 In the original planning published by Optimism, approximately 14% of the total tokens to be distributed were reserved for future launches, after this first stage. The dates have not yet been defined.