Key facts:
Arbitrum is only available on Binance for ether (ETH) deposits, not other tokens.

Binance reports that they will also enable Arbitrum withdrawals in the near future.
This article contains referral links. Know more.
The cryptocurrency exchange Binance incorporates from this Friday, November 19, 2021 support for the Arbitrum rollup. This is a second layer Ethereum solution that allows transactions to be carried out without the need to pay the onerous fees that the main network sometimes has.
For now, Binance just add the option to make transfers to the exchange. But the company announces that, in the future, they will also add the possibility of making withdrawals through Arbitrum.
Through a concise release, the leading company (by trade volume) in cryptocurrency exchanges announced the news hours ago.
CriptoNoticias was able to verify, when entering the platform of the exchange that, indeed, the possibility of depositing through Arbitrum is enabled. But this is only true for ether (ETH), Ethereum's native cryptocurrency and not – at least, for now – for ERC-20 tokens, that is, those that are developed on the aforementioned blockchain.
The novelty becomes important, as it is an accolade for this second layer Ethereum solution. Also the exchange Uniswap, which is the most used decentralized exchange (DEX) platform in Ethereum, has decided to incorporate Arbitrum to solve the problems of network congestion.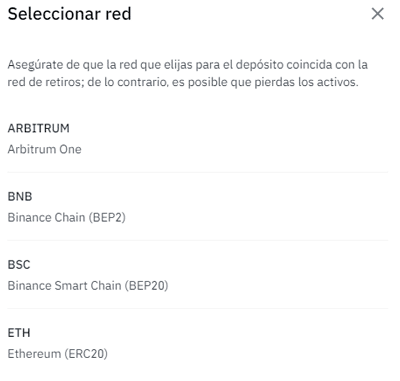 What is Arbitrum on Ethereum?
The Arbitrum rollup, launched in September of this year, allows several Ethereum transactions to be "rolled up" (they can be ETH shipments, tokens, or smart contract signatures) and execute them off the main chain. In this way, no need to pay fees to miners to validate them.
With rollups, it is only necessary to pay these fees to exit or enter the Ethereum blockchain. That is, to bring ETH or tokens to the second layer, or to settle transactions on the chain.
That an exchange of the size of Binance Incorporate Arbitrum makes it easy, for example, to convert ETH or tokens into fiat money. It is no longer necessary to bring the tokens to the main chain and then send them to the exchange (a process that involves a double payment of fees) but instead directly sent to Binance quickly and cheaply by the "collector" of the rollup.
It is worth clarifying that, in terms of decentralization, it is still not the same to operate in a rollup than in the main Ethereum network. In the particular case of Arbitrum, during the first months, the development team could pause the system if deemed necessary. However, it is expected that, little by little, decentralization will grow along with the development of the protocol.
In the words of Offchain Labs, the developer of Arbitrum, "the ability to make rapid updates during the first months after launch is important to respond quickly to any security event."