Key facts:
Many expect governance to be given through a native network token

If launched, Optimism would be the first rollup to have a native token
"A new chapter". With this expression, the company behind the Ethereum Optimism rollup has presented its novelties. These include plans to grant governance power to its users, for greater decentralization.
The release The company itself gave it yesterday, April 19, on its official website. There they provide figures that show how the development has grown since its inception in 2019. They report that, thanks to its rollup, Ethereum users have saved more than USD 1.1 billion in commissions.
A rollup is a scalability solution that allows to send ether (ETH) and tokens of ethereum outside the main network. In this way, the payment of commissions to the miners for each transaction is avoided. Rollups are compatible with smart contracts, thus allowing their use in implementations such as decentralized finance.
Advertising

And the governance that Optimism refers to is the fact that users of a certain protocol can make certain decisions. Some cryptocurrency networks and decentralized platforms carry out governance through votes made by those who own a certain token. In other governance systems, it is the nodes who vote on the changes to be implemented.
So far, Optimism has not commented on the matter. But many have already begun to speculate that a token would be released.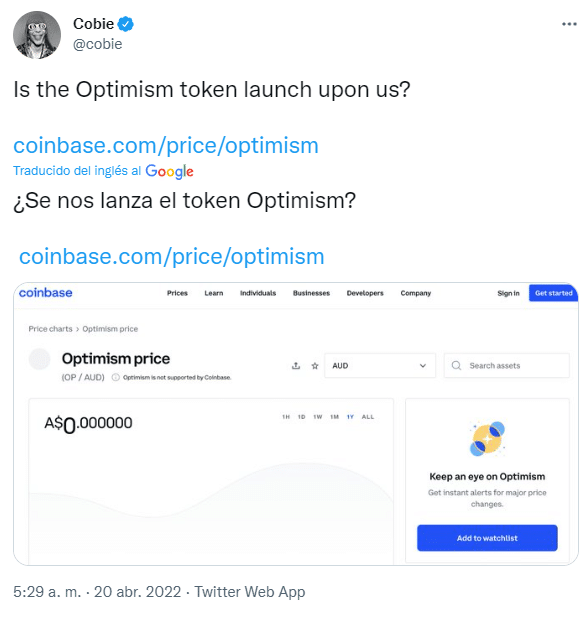 The rumors are not unfounded. Twitter users have found that in the Coinbase exchange, more precisely in its price monitoring section, a token is found under the name "Optimism" (although it still does not have any quote).
Advertising

Airdrop rumors on the way
Certain Twitter users are hoping that, in case a governance token is issued by Optimism, distribute via airdrop. This was done, for example, with the UNI token of the Uniswap exchange in 2020.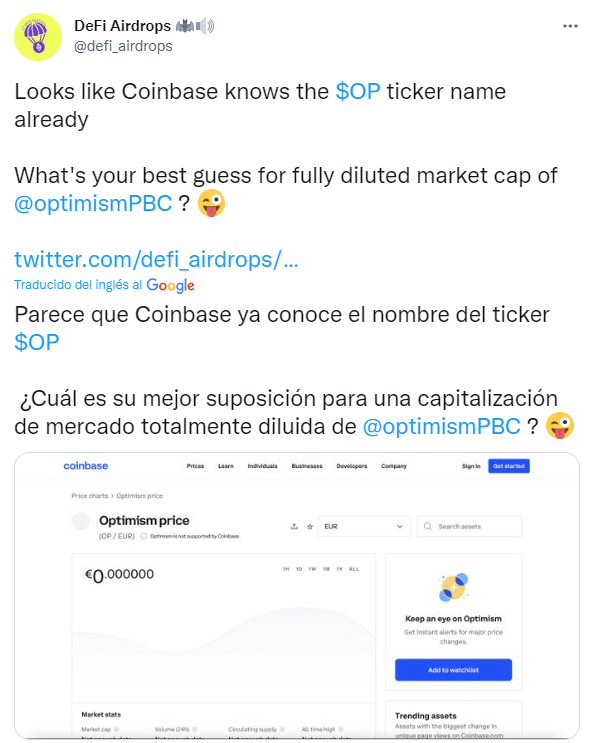 In the case of UNI, the token was distributed to everyone who had used the decentralized exchange up to a certain date. Several other decentralized protocols used a similar system to distribute their tokens.
Given these rumours, special care must be taken to prevent possible scams. Remember that, so far, the company has not given any confirmation of what its governance system will be like nor has it issued any token.