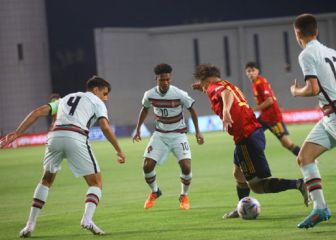 Spain U-17: Nerd; Boñar, Simo, Yarek Gasiorowski, Iván Garriel (Víctor Muñoz, m.88); Carvalho (Pol Fortuny, m.56), Gerard Hernández (Yusi, m.88), Antonio Moreno; Dani Pérez (Álvaro Ginés, m.77), Dani Rodríguez (David Mella, m.56) and Iker Bravo.
Portugal U-17: Diogo Fernandes; Martim Fernandes, Muniz, Monteiro, Barroso; Essugo, Djalo, Veloso (Vivaldo Semedo, m.91); Moreira (Gonçalves, m.91), Rodrigues (Rodrigo Ribeiro, m.80) and Lima (Mendoça, m.94).
Goals: 0-1, m.9: Alfonso Moreira. 1-1, m.17: Javi Boñar. 1-2, m.63: José Rodrigues, from a penalty.
Referee: Christian-Petru Ciochirca (Austria). He admonished Gerard Hernández (m.20), Iker Bravo (m.36) and Yarek (m.62) in Spain. In Portugal, he showed a yellow card to Martim Fernandes (m.85).
Incidents: Match corresponding to the quarterfinals of the U-17 European Championship played at the Netanya Stadium in Israel.
[