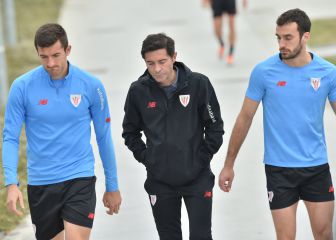 An afternoon of farewells is coming in San Mamés. It usually happens at each end of the course, although in Bilbao, with a slower trickle than in other places. With the old stadium, with Bielsa, Gurpegui, Iraola, Iturraspe, Susaeta… In this case, the curtain falls on Elizegi, the president of harmony these three and a half years. He will no longer appear in the front row of the Bilbao box. And Marcelino also says goodbye. Thinking right now that the only candidates for the presidency at the moment, Barkala and Arechabaleta, change their minds and trust the coach seems impossible (follow the match live on As.com).
The electoral process has slipped into this season finale. Barkala has spoken with those around Pochettino and Low. García Toral met with Arechabaleta days ago and he did not dare to tell him that he has ruled him out in case he occupies Ibaigane's chair, but AS has been able to know that it is so, that he is looking for another profile. The Asturian coach was not amused: "He could have told me directly that he doesn't count on me." He also confirmed this that it is possible for him to play Capa for a few minutes today, after a terrible blank year in which he has not counted for anything.
Nostalgia and the institutional drown out sports, but there is also crumb here. San Mamés hastens the few options that remain to qualify for the Conference League, that is, the seventh place. Osasuna arrives without playing anything relevant in the classification, but the same thing happened with Valencia and they put a good stone in the rojiblanco shoe. The accounts are clear: the lions must cut four points with Villarreal in the six that remain to be played. At least, they beat the average. It is difficult to think that the Submarine only adds a tie as a cap in the remainder of the year. The curtain will fall at the Sánchez Pizjuán against Sevilla.
The lions arrive under the depression of the tie at home against a Valencia that nothing was at stake and a Granada that walks between life in the First Division and death in the Second Division. Marcelino recovers all his defense, a line that was in the box at Nuevo Los Cármenes. Vencedor is better in recent appointments and will want to celebrate his recent renewal with a triumph.
Osasuna will be looking for a victory that certifies a great season in a clash loaded with symbolism until 600 rojillos will travel to try to counteract the push of San Mamés. The three consecutive draws (all 1-1) dragged by Osasuna have tarnished the end foreseen by a team that had an affordable calendar to have attempted a European assault, a challenge that has been completely ruled out.
Arrasate has announced rotations. They look for stimuli but they are not necessary, due to the usual rivalry between two formations with geographical proximity and transfers from Pamplona to Bilbao. Oier continues to discount what little he has left as an active player. He would love to emerge triumphant in his last steps in a difficult square in which he managed to score two courses ago to give the three points to his team.
Osasuna will propose a round trip match, with rhythm. The truth is that the Navarrese team, with 47 points, He still has options to steal eighth place from the Biscayanssomething that happens by winning the two remaining games and Athletic losing today and against Sevilla.
[