Key facts:
The total rewards for mining have exceeded 6.30 BTC in June for commissions.

The daily profit from mining has been over USD 17 million in June.
Despite the arrival of the bear market and the crypto winter, the transaction fees or commissions in the Bitcoin network continue to represent a relevant part of the rewards that miners receive for processing a block of transactions and adding it to the chain.
According to figures showing Bitcoin mining analytics firm Braiins Insights transaction fees, represented as a percentage, exceeded since the beginning of June more than 2% of the total reward. "Not bad for a bear market«, defend from the company.
The fees, measured in bitcoins, have remained for most of the sixth month of 2022 above 0.15 BTC. This has allowed the total rewards (which add the 6.25 BTC of the protocol plus the commissions) amount to just over 6.30 BTC, that are received and divided into Bitcoin mining pools, depending on the type of group in which it is operating.
If we look at the graph below, provided by Braiins, we can see how in most of June transaction fees maintained mixed trends, but mostly bullish. It had minimum peaks of just 1% and maximums of up to 3.5%.
At the time of writing this news, transaction fees represent 1.8% of the block reward, which is equivalent to 0.09 bitcoins.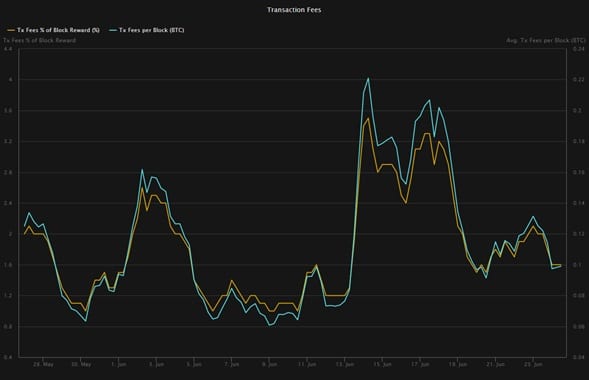 It should be noted that most of the bullish peaks seen in the graph occurred on the days when the price of bitcoin began to fall. For example, on Saturday June 18, when BTC dropped to as low as $17,500, transaction fees rose to 3.3% or 0.20 BTC.
This could be understood as a natural reaction of investors, who, faced with price drops, sell their holdings and decide to pay more to the miners so that their transactions are first in the list. memepoolthe Bitcoin waiting room.
Daily rewards on the same line
The movement of transaction fees in Bitcoin has corresponded with that of daily earnings from mining, which remained for most of June at a figure greater than USD 15 million.
According to brainsthe daily profit from mining remained oscillating, between USD 17 million and USD 20 million, as a result of the volatility of the bitcoin price, which fell to annual lows a few days ago.
At the time of writing this news, daily rewards are at USD 19.2 million, a figure in which it has managed to stabilize in recent weeks, after falling from USD 30 million at the beginning of the month.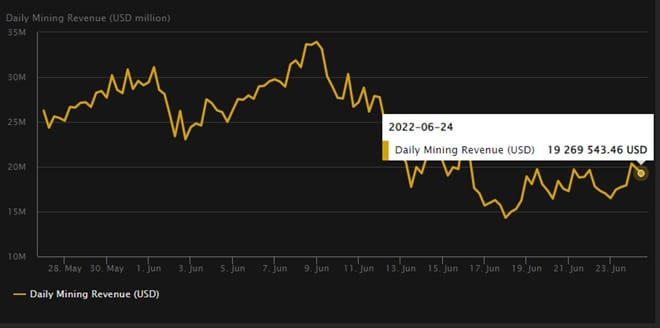 The numbers shown speak of the resilience that the miners have had and the reasons that, despite the low prices, lead them to continue operating. They know that BTC "can appreciate" at any time, and while that arrives, they continue mining and winning.