The average commissions that must be paid to carry out transactions in Ethereum have been decreasing for weeks. On July 31, these reached USD 0.61 on average, a figure not seen since Sunday, November 29, 2020, the day on which operating on the network cost approximately USD 0.44.
According to data from the analytics firm glass node, Ethereum fees averaged $1.32 last Monday, August 8. In the previous seven days, the value had hovered around the dollar, and was even below it on several occasions.
The situation It clearly contrasts with what had been happening on the network during 2021 and part of 2022. As reported in CriptoNoticias, Ethereum's congestion caused fees to skyrocket to tens or even hundreds of dollars for a single operation.
In this sense, the highest point was in May 2021, when a commission of approximately USD 34, on average, had to be paid to use Ethereum. Also in November there was a similar peak in terms of these metrics.
Regarding the reasons for this drop, the main one has to do with network activity. In times of bear markets, demand has been reduced and this frees up space on Ethereum, making it cheaper to use.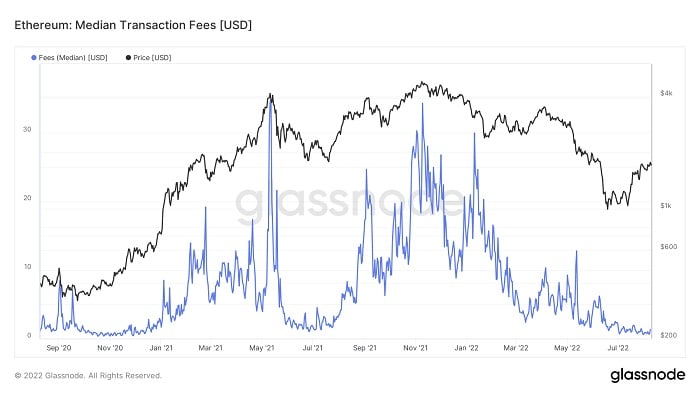 Fall in the price of ETH also favors low commissions
Also, it should be noted that When measuring commissions in dollars, they are affected by the fall in the market price of ether (ETH). The cryptocurrency, with which commissions are paid in Ethereum, has a value of USD 1,756 according to the CriptoNoticias price index at the end of this note. That figure is far from the almost USD 3,800 that the cryptoactive was worth 14 months ago.