We have all had some bad experience in the workshop, whether due to incorrect repairs, incomplete revisions, various "robbery" and much more, however, have you ever had a blow or accident with your car in the workshop? yes or no, pay attention to the story of this mechanic who has crashed a Ferrari Enzo.
As DeGooi-en Eemlander comments and we have learned thanks to CT, a garage mechanic had a spectacular accident with a Ferrari Enzo on the Amsterdamsestraatweg (N221) in the town of Baarn.
In the video, you can see that the accident was quite serious and that the repair will presumably be very expensive, especially knowing that the Ferrari Enzo are on the rise and are now valued at around 3.3 million dollars.
How is the Ferrari Enzo?
The history of ferrari enzo comes after the production of the F50 will end in 1998. It seems that die-hard tifosi were dreaming of an exotic machine.
In mid-2002, the then president of Ferrari, Luca di Montezemolo, put an end to speculation with the presentation of the ferrari enzo. Although the model name required no explanation, he reasoned that after Ferrari named cars in historically important places like Maranello and Modena, the time had finally come to honor the company's founder.
He also clarified that the new model would have a strong connection to Formula 1 racing, as the manufacturer had just won the Manufacturers' Championship in 1999 and 2000 and the Drivers' Championship in 2000. Michael Schumacher, in fact, had just started his historic dominance in F1.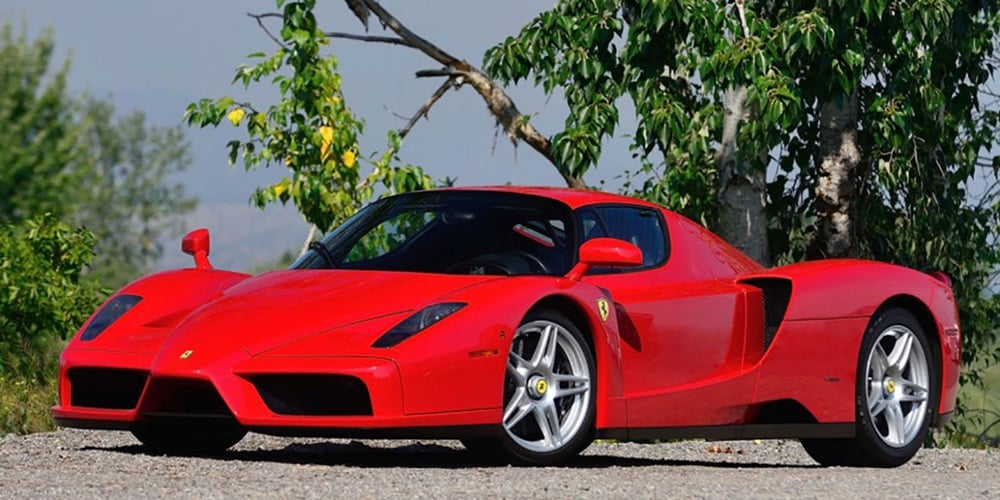 Formally debuting at the 2002 Paris Motor Show, the Ferrari Enzo delivered on its promises.
The Enzo used futuristic materials to achieve maximum weight savings, with a chassis tub made primarily of carbon fiber and honeycomb Nomex. Aluminum substructures were fitted to the cockpit, laying the groundwork for the assembly of Pininfarina's unique bodywork.
The body was composed of woven panels of carbon fiber and Kevlar. Nineteen-inch alloy wheels, carbon-ceramic disc brakes, 15-inch Brembo calipers, and scissor-opening doors showcased some of the model's technology.
The Six-liter 65-degree V12 was the largest engine built by Maranello since the 712 Can-Am of the 1970s. It was packed with racing components like Nikasil-coated cylinder walls, titanium connecting rods, and a telescoping intake manifold designed to increase torque.
With the power transmitted through a six-speed dual-clutch transaxle which was actuated with cams, the model accelerated from 0 to 100 km/h in 3.3 seconds.
Production was eventually limited to 400 units, so this was a car whose engineering also matched its rarity.
Without a doubt, the unit finished in Rosso Corsa color can be repaired, but the repair will not be cheap at all. We have always said that these beasts are not easy to tame and even less so if the conditions are slippery.
Miche Media Video