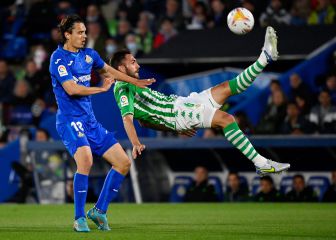 The two needed to win to meet their goals but tied. The point does more service to Getafe, which brings it closer to the edge of salvation. For Betis, on the other hand, it is insufficient. He stays three away from Atlético, with whom he loses the goal average. Great opportunity lost and bad dynamics acquired, because in the last three games they have not won and have only managed two draws.
Betis began the game by carrying out experiments in Pellegrini's laboratory by putting into practice, in the second minute, a rehearsed free kick. Fekir played short for Canales and the latter, from the top of the area, put the ball passed into the area that Pezzella finished off with a header. It was a goal, but Soria responded by clearing with one hand.
At the beginning, Betis's desire to enter the Champions League weighed more than Getafe's need to ensure permanence. Getafe's five-man defense was difficult to overcome, so Betis decided to reach Soria with unsuccessful shots from outside the box by Canales and Fekir. There's caviar on his left hands, but only a sniper could hit a target from that far away.
The first part was thick. There was no fluidity, mainly because neither team broke down. First the order and then the joys. At the break, the statistics confirmed the feeling that Betis was winning on points: four shots on goal from the Verdiblancos and none from Getafe. 30%-70% possession.
Getafe's first shot on goal was a clear scoring chance, a header from Okay (48′) that Bravo punched. The second part began identical to the first but with the roles changed.
Betis charged down the left side. Oscar suffered in defense. Quique made a swap with Maksimovic and Betis no longer had as much clarity in that band. As the game progressed, Getafe grew. Quique went up lines at the same time that Betis backed down. The legs of the Betis were tired after the extra effort of the Cup final.
In the second part, Getafe shot twice between the three posts; Betis, not one. Bad game and tie that doesn't solve anything.
[