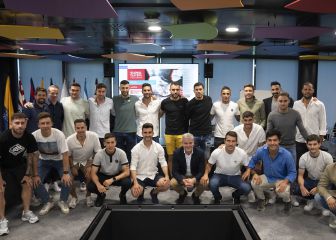 The footballer is no longer short-term. Despite his historical fame of a life full of money, houses, cars, parties and football, the players look to the future and begin to prepare professionally for the moment when they hang up their boots. It is a change of mentality since they are increasingly interested in the different outlets that exist within football. Up to 30 First and Second Division players They took advantage of their first week of vacation to finish studying the Global Players Program in Madrid.
The life of the soccer player is atypical. "They make a lot of money in a short time, but when they retire they are in the prime of life and they have a long way to go.r. They have to be prepared for that moment," explains José Moya, director of LaLiga Business School, the department that has launched the Global Player program. "We want the players to contribute tomorrow. You have to transfer all the knowledge they have to the management side", he adds. And, for this reason, LaLiga has launched this free initiative for footballers. A course that began last February and that the players have combined between training, matches and trips to learn the main pillars of Spanish football: sports marketing, football journalism, audiovisual rights, internationalization, knowledge of the fan and Data Driven, the production of a match, economic control…
"The world of football doesn't just go through the ball and this course helps you to be more protected," says rayista Óscar Trejo. "It is a very important complement to our careers. 80% of the players want to continue in this world. We started in it since we were kids", he adds. But the Argentine is not the only one with this mentality, Jaime Mata agrees with him: "On a personal level, these programs and masters really catch my attention. I belong to an industry that I only know the field part of, football. I want to know everything that encompasses the sector: financial area, marketing, club management… It will help me to know all the areas of the club and to know where I can fit in the future. It is always good to know the industry to which you belong, not just arrive, put on your boots and play. You have to see what it encompasses."
Toni Villa, who has just been promoted with Valladolid, is another of the footballers who have come to the capital to finish a course in which he has had presentations by those who lead different areas in this industry such as Tebas, Óscar Mayo, Javier Gomez, Roberto Olabe… "It's an opportunity to train for the future. I started university to study international trade, but it is very difficult to combine it with a sports career. It creates a lot of stress. We need to adapt it to our schedule and these facilities are very important. Our career doesn't last very long", says Toni Villa. "You always have to ask yourself what you want to do after football. You have to have that hunger and ambition to continue in football, even if it's in another field. If I get into something, I want to be very well advised and know what I'm in"reflects Trejo, a regular at LaLiga courses, who takes advantage of his free time between training sessions and trips to continue training.
End the myth of the party player and little interest in studies
"The commitment has been brutal. We took out the inscriptions for the First and Second players and in three days it had been filled. There are many who have been left out. We are going to repeat this program every year," explains José Moya. The footballer has always had a reputation for partying, but the 30 footballers who have been studying in Madrid last week show that they are like the rest of the young people in their twenties and thirties. They think about their future and that of their families, about what will become of them. "We are always related to cars and houses, parties… But football is changing. The one from a decade ago is not the one from now, that we have more facilities and tools to train ourselves. If you get bitten by the worm of wanting to know something, you can train and investigate", exposes Trejo.
Mata also clears up those clichés that exist about footballers: "There is a lot of desire to know and learn, there is concern on the part of everyone to participate. People have us pigeonholed in how we are footballers, but we really want to know and know. We are restless ". In addition, the Getafe striker analyzes one of the keys to the Global Players Program: "In a part of this course we have been given the opportunity to know ourselves. Sit down and analyze ourselves. We have rethought many things and we have managed to really know what we want to do or what not. Now we can decide where to go in the future."
"It is better for a player to spend his free time in education than in parties or gambling… The situation has changed a lot. We are going towards a restless player. Here they are voluntarily, they have left their vacations to come to Madrid to study", reflects the director of LaLiga Business School. And adds Toni Villa: "The footballer is training and learning more and more because there is more accessibility. If you don't have the choice or the time, you can't. Thanks to the LaLiga and AFE courses we can train and be more prepared for the future". And he continues: "In my dressing room there are several who are studying a course, career, master… Many wanted to have signed up, surely next year they will try again."
And it is not only to prepare for the future, but to understand the present and its reality. "They are getting to know the work environment. They receive a salary and they want to understand how the salary cap works for when they go to negotiate with their clubs.yes They have to know everything around them. Understand how the parameters for the salary limit are followed, how it works and what the CVC money is used for, the distribution of the television money… We wanted them to see it in the first person, "explains Moya.
[