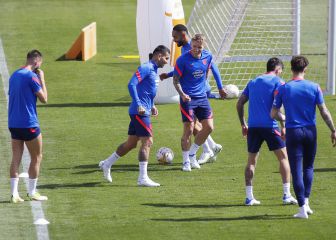 Finished a Champions, now only the other remainsthe single title to which Atleti can cling this season. As intangible as fundamental. Today, under that challenge, football returns to the Metropolitan still with the emotion of the last 45' of their tie against City in the air. To die mine die at last before my eyes. The troglodyte handcuffing the modern who only knew how to lose time to surviveto go to the semifinals.
The tie is over and the rojiblancos only have to not miss the next one. In their League of 14, Atleti only knew how to win. Six games since he coined it, six wins. Until last week, a Mallorca between City and City that knocked down the rojiblancos, suddenly with all its ills there, without tone or tact. If Betis had won on Friday, they would have snatched the 4th place in the table and Atleti would have left those positions that give access to the next Champions. You can no longer fail. There are seven days left, seven finals. The first today, against Espanyol (follow the match live on As.com).
The coaches' plans
The permanence tied, thanks to his victory against Celta with a goal from Wu Lei and the umpteenth assistance of a Darder in a state of grace, look at Espanyol above. And that ceiling passes perhaps not so much through the European chimera as through desecrate stadiums like the Metropolitanin which Raúl de Tomás curiously will debut with the attempt to increase his 14 goals, up in the top scorer table.
The parakeet headache is to recompose the puzzle left by the absence of Yangel Herrera (sanction). The doubt is between Melendo, more lively creative game but greater inconsistency, or Morlanes, who would give more freedom to Darder, although he comes out of a pubalgia. Simeone, meanwhile, still can't count on Giménez or Herrera but he has the rest.
The Argentine plans a return to 4-4-2 to see if the inspiration in the goal returns, after three games without him. Llorente would return to the middle, Lemar would remain, ahead of Lodi, with Correa back, and next to Joãoto the detriment of Grizi. The hero of the past League to continue being so in this one.
[