Key facts:
According to Compass Mining, they did pay what was owed. Dynamics rejects it.

Compass Mining CEO says he will fight in court.
Compass Mining, a Bitcoin mining company, lost its stake in a pair of mining facilities in the United States (USA), after the owner of these, Dynamics Mining, canceled the agreement that both entities maintained. According to this second company, the first did not pay the electricity bills and other required services, for a debt that amounted to more than 1 million dollars.
Dynamics Mining echoed the rupture between the two companies through a letter they posted on Twitter, dated June 10. In it, they let it be known that as of June 14 there would no longer be a commitment between the parties, since Compass reportedly has at least six late payments and three defaults involving utilities and other fees. In addition, and according to Dynamics, Compass had to pay a monthly commission before February 1, which was also not properly paid.
In detail, and according to Dynamics Mining, electricity bills are around USD 1.2 million, of which Compass Mining only paid USD 665,000. In fact, and although Compass Mining claims to have paid, Dynamics claims that those funds were used to build other mining facilities.
Compass Mining is a company that sells Bitcoin ASIC miners and at the same time offers mining services. hosting or lodging within its facilities in the United States and Canada. Along with Dynamics, it maintained two of these plants (Oxford and Lewiston) both owned by the second company, based in the state of Maine. But that was before the money evaporated the relationship between the two companies. Now with the separation It remains unclear what will happen to the miners who had been operating on that Bitcoin mining farm.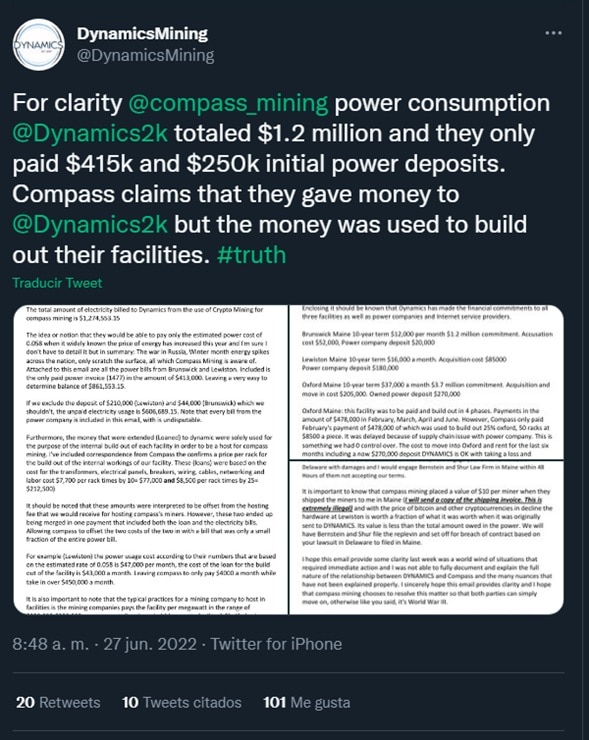 In any case, Compass Mining establishes that, in an emergency, they are free to reorganize, remove or relocate the housed miners, without implying any kind of liability for the company.
To the courts?
After the situation between Compass Mining and Dynamics Mining became known, the CEO of the first company, Whit Gibbs, reacted. manager said that he was going to "fight this battle" in US courts, "not on Twitter". The funny thing is that his message was removed from the social network.
Dynamics had time to respond to Gibbs before he deleted the tweet. In a brief message, the company said that all you need to do compass is "paying USD 250 thousand for three months of energy consumption". "Because they didn't give their customers their serial numbers, I couldn't even help them. Twitter is the voice of your customer base, not the courtroom," Dynamics Mining argued.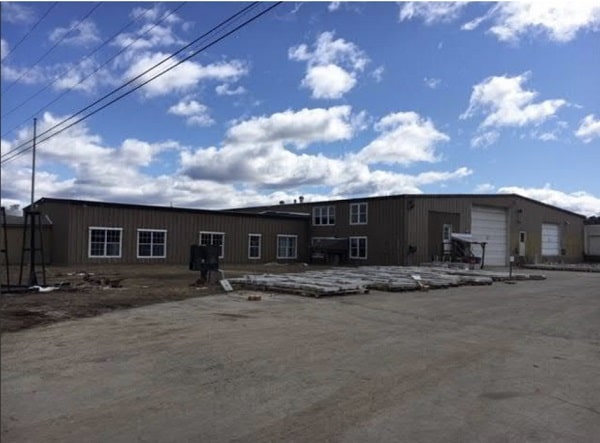 At the moment, the CEO of Compass Mining has not indicated anything again, nor are there any communications on the website of that company. CriptoNoticias tried to contact them, but at the end of this article we have not had a response. We will continue reporting.