Key facts:
Samson Mow, Blockstream CSO, installed the system at the Salvadoran plant.

El Salvador has been mining bitcoins with volcanic energy since the end of September.
The Salvadoran geothermal plant where bitcoin is currently being mined will now be connected to the Bitcoin network through a satellite system. To do this, they will use the service of the Canadian company Blockstream.
This Wednesday, November 17, the Salvadoran authorities installed in the Berlin geothermal field, in Usulután, "a satellite signal to ensure the mining of Bitcoin," as Noticiero El Salvador reviewed via Twitter. "This is a receiver that will help connect to the Blockstream service, through a satellite in space," added the medium.
Samson Mow, CSO of Blockstream, was personally commissioned to install the system of the company, such as exposed himself in your social network account. "The facility is now connected to our satellite network and receives blocks of Bitcoin from a geosynchronous orbit," Mow wrote.
With this connection to the Blockstream satellite system, it seeks guarantee permanent connection with Bitcoin from the station dedicated to Bitcoin mining with energy from the Salvadoran volcanoes. As CriptoNoticias has reviewed, one of the advantages of connecting with this satellite is keeping the Bitcoin nodes updated without internet access.
Shortly after announcing that El Salvador would adopt bitcoin as legal tender, the country's president, Nayib Bukele, reported last June that they would use energy from volcanoes for Bitcoin mining, upping the ante on public investments in the cryptocurrency.
Profits from Bitcoin mining in El Salvador
At the end of September this project was already a reality. In this medium we report that the Central American country had received its first reward in BTC for its energy contribution to mining on the Bitcoin network.
At that time, Bukele shared a screenshot in which a total balance of 0.01 BTC could be seen which equates to about $ 515 in profit from mining. Right now, that same balance would be equivalent to almost $ 600, as shown by the CriptoNoticias price calculator at the time of writing this article.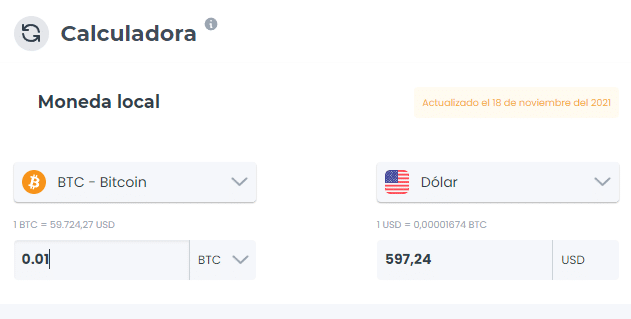 It is unknown how much BTC the Central American country has received so far for its mining installation, when about two months have passed since its commissioning.
What the Salvadoran president has declared is the purchase of a total of 1,120 bitcoins, which is equivalent to about $ 67 million right now. And with the gains from the rise in the price of the cryptocurrency, the president plans to build a veterinary hospital and remodel some 20 Salvadoran schools.